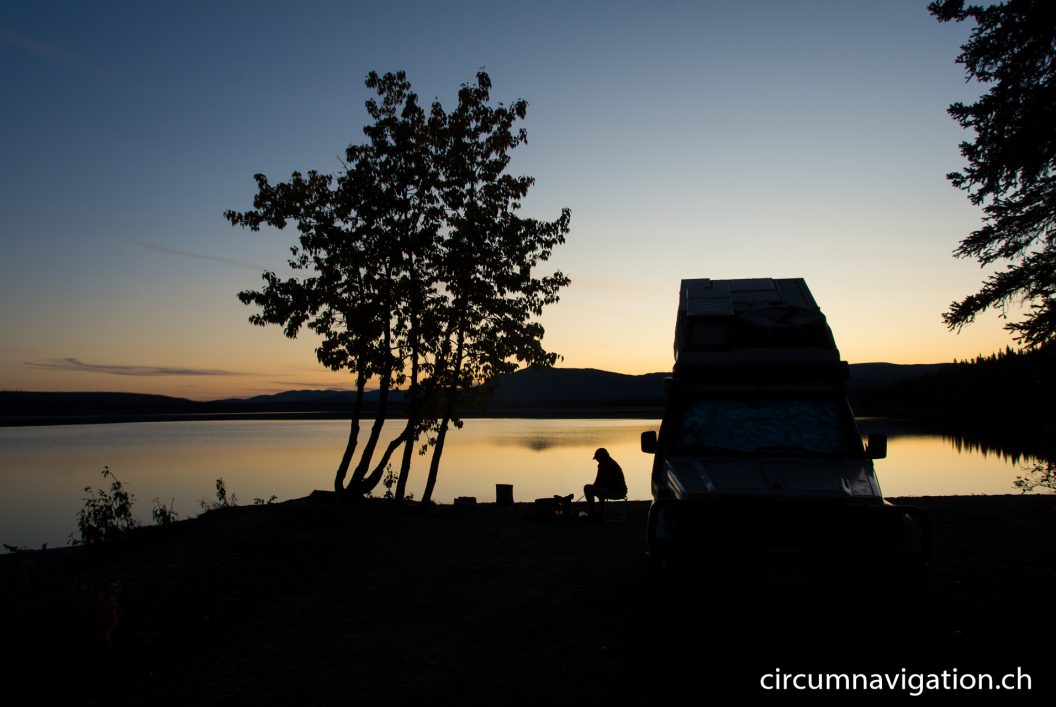 Our clothes smell of smoke and fire. In the past three evenings, we are sitting around the campfire until 10.30 pm in the evening. The day before yesterday it was on the Klondike, yesterday at Great Salmon Lake and today in the forest, on the South Canol Road.
Since we drove the Dempster-Highway, we have found even more enjoyment on dirt roads. So, it was a good thing that South Canol Road, a 230-kilometer connecting road between the Robert Campbell and Alaska Highway, was on our route. We drove this dirt road for the first time in 2008; but during bad weather. But now a few more sunny days were announced. So, what could be more appropriate than to take this road once more under the wheels?
Like many roads in northern Canada, Canol Road was built in 1943 during the Second World War. And also, by the Americans, who built a pipeline to the north to safely fuel the US Army in Alaska. And where a pipeline is being built, there is also a road to follow: CANOL (Canadian Oil).
After the war, the road and pipeline were taken out of service. But then the Canadians discovered the value of this dirt road and after a few repairs put it back into operation. To the delight of us and other tourists who are traveling with off-road vehicles. A 4×4 vehicle is not a prerequisite here. But it is good to know that you can drive this route even in the rain. Luckily since days the sun shines from a deep blue sky. And we drive without 4×4 by a fantastically beautiful autumn landscape (Indian Summer!) Driving is not any better than here and now!
PS. Tomorrow, September 9, 2019, we will reach the Alaska Highway at Johnsons Crossing. Then we decide if we head south to Watson Lake, or north to Whitehorse once again!
(Written on 8.9.2019, at Quiet Lake Camp, on the edge of Canol Road.)