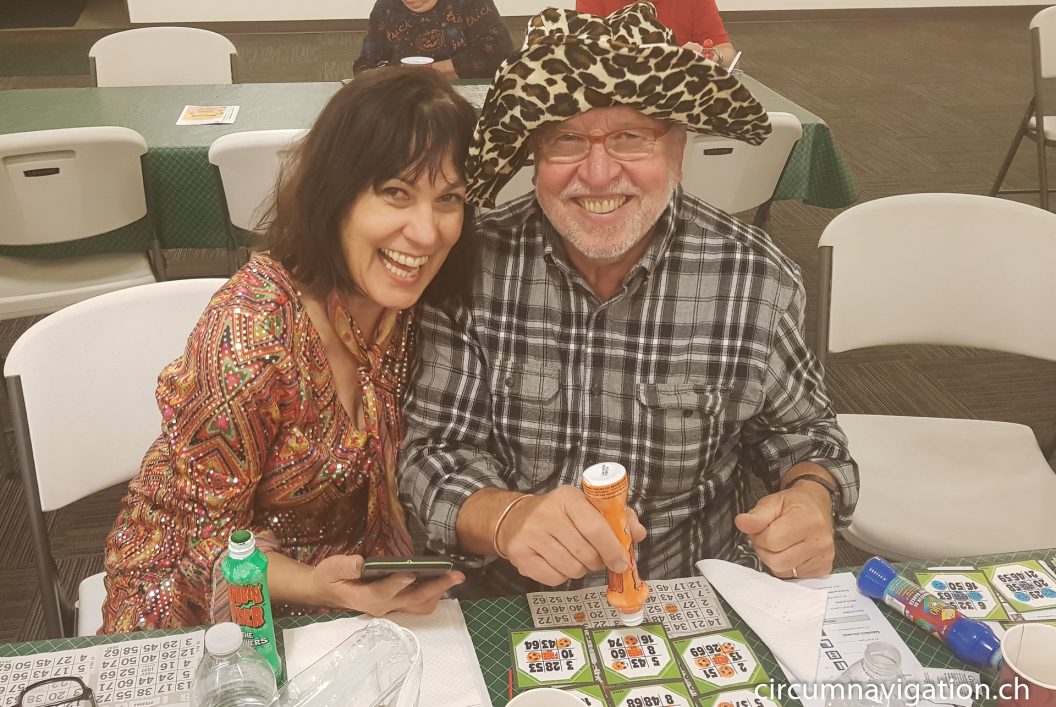 Halloween was just the beginning! It was becoming more scarier! I knew from Sascha and Rita, US travelers from Switzerland, that they were invited to a Bingo evening. And that Sascha won there. But I had no idea what to expect?
Until 10/18/2019! Kathy had once again pulled the strings behind the scenes! She surprised us on that day with the announcement that we are going to a church fundraiser? Yes! Her Catholic community in SLC organized a Bingo. Kathy wanted to spice things up. So, in true Halloween fashion, we dressed up once again.  Oh no! Not again! I slipped a Leopard pattern hat over my head.  While the ladies wrapped themselves in glittering hippie costumes. Absolutely carnival ravishing! And we were the only ones who were in the spirit. Everyone else (average age 80!) Appeared in street clothes or gym suits. Many of them with walking aids. I would love to sink into the ground ha ha!
Brigitta stole the evening as I heard her yell BINGO!  We left richer in more ways then WON! That was the first and perhaps I will participated in a Bingo game again minus the hat.
PS. Bingo is a game "Lottery" that is very popular in England, the Philippines and in the United States. Bingo is a descendant of the parlor game Lotto.
(Source: Wikipedia) (Written in Salt Lake City, Utah)