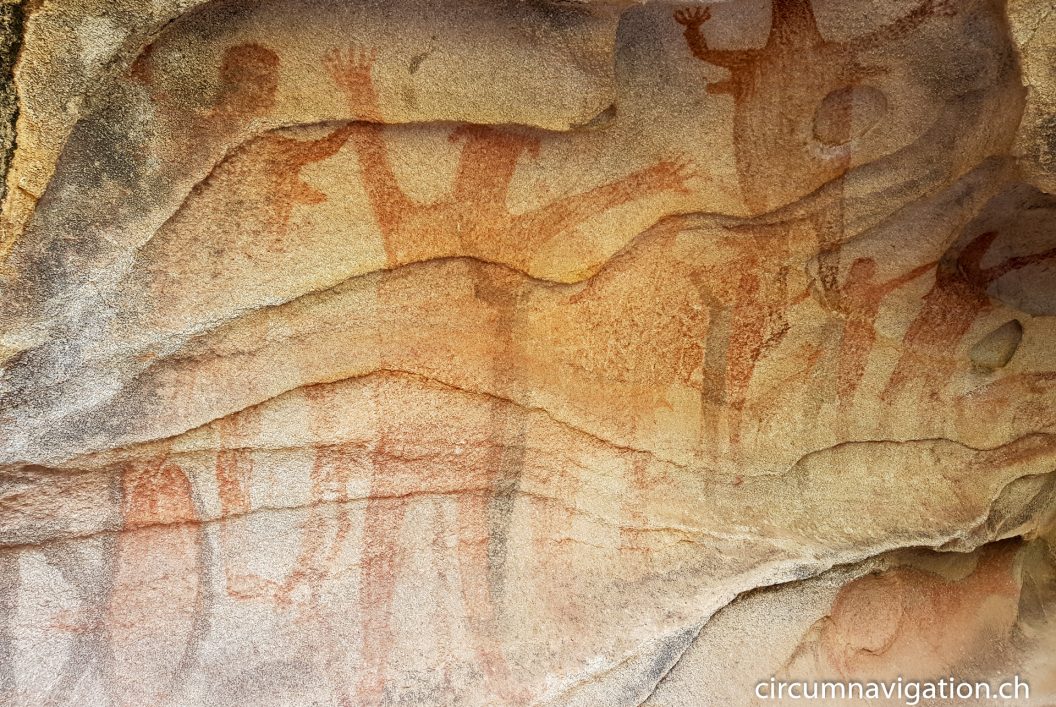 We had long considered whether we should drive to San Francisquito, on the coast. Also, because you have to drive back the same distance – 120 kilometers. Is it worth it after we've already made the trip to Bahia Los Angeles?
But according to Lonely Planet, 2005 edition, this bay should be one of the most beautiful on the Baja. Brigitta consulted the iOverlander, an important App for travelers. The statements from other travelers were mixed. The decisive factor was Enrique in Guerrera Negra. He said there were also rock paintings to see along the way.
On February 4th, 2020, we left Guerrero Negro. The first fifty kilometers were rather monotonous. But then the landscape changed; it became greener. Once again, we saw Cardone cacti that were almost fifteen meters high. But impressive Boojum trees also rose into the blue sky. And the floor was littered with a sea of ​​yellow flowers! Just beautiful!
After an hour's drive, a narrow slope branched off to the right. We followed it, parked at the bottom of the hill, and climbed uphill for twenty minutes. Then we stood in front of a cave and marveled! 10,000 years ago, our ancestors made drawings here that are still well preserved today. The most surprising thing, however, was that no barrier was visible. It seems like there are no philistines among the few tourists who come here. Great!
PS: The San Francisquito Bay was a disappointment. We will remember the junkyard and the crumbling buildings. Just get away from here! We made our way back and stopped off at the hospitable Rancho Piedra Blanca.