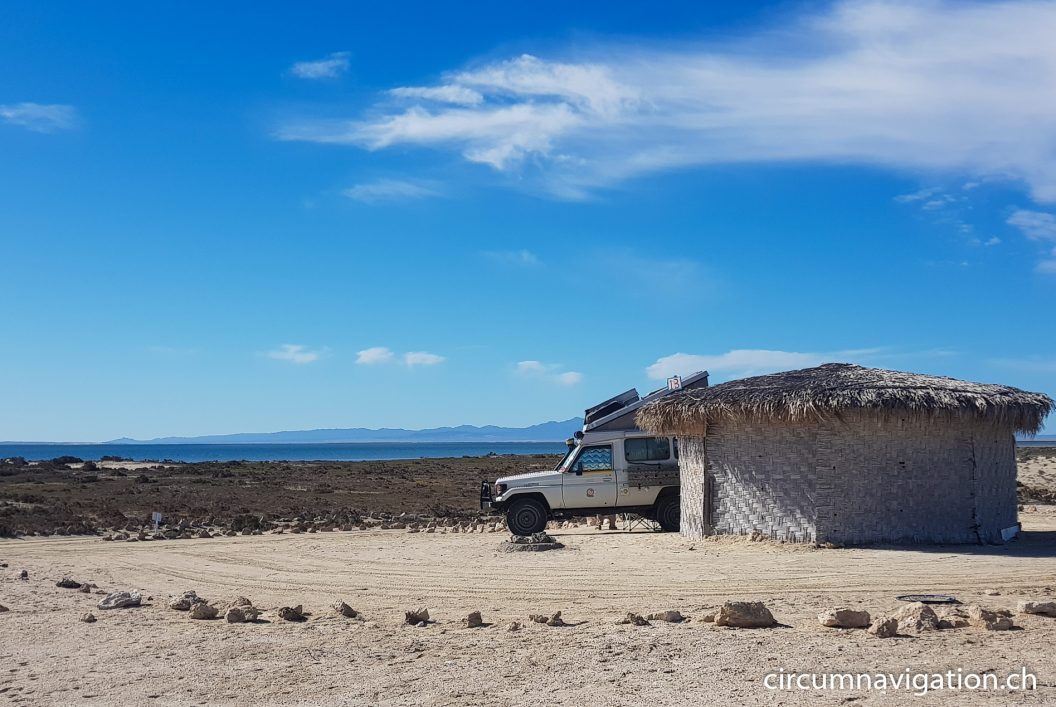 On February 2nd, 2020, it was a sunny Sunday morning, we drove to the lagoon Ojeo de Liebre. We didn't eat breakfast because the evening before we had a wonderful fish in the restaurant of the Hotel Malarrimo. As a starter there was a shrimp cocktail!
Ten kilometers outside the city we turned to the lagoon, which we reached thirty kilometers later on a dirt road. We saw the restaurant and the palapas from afar. And also, a barrier. But it was open. It was Sunday and free entry for locals and tourists. We looked for a free palapa – it was number 13. (Probably because this number is also considered an unlucky number in Mexico!) We put our camping chairs in the sun, applied Sherpa Tensing sun cream and read the next few hours. It was a cozy Sunday afternoon. With the binoculars we watched the whales, the puffs of which could be heard up to us when they surfaced.
The highlight came in the evening when Brigitta served potatoes with cheese. Not just any cheese, of course, but Swiss cheese from Upper Valais. The delicious meal was accompanied by a chilled Corona beer. For dessert there was a Ragusa, accompanied by an espresso and a whiskey!
PS: This morning we drove back to Guerrero Negro. Here we had the broken exhaust bracket welded. Brigitta had temporarily fastened it with wire a few days ago. (When I told José; the welder, that Brigitta did this, he was deeply impressed. I am too!)