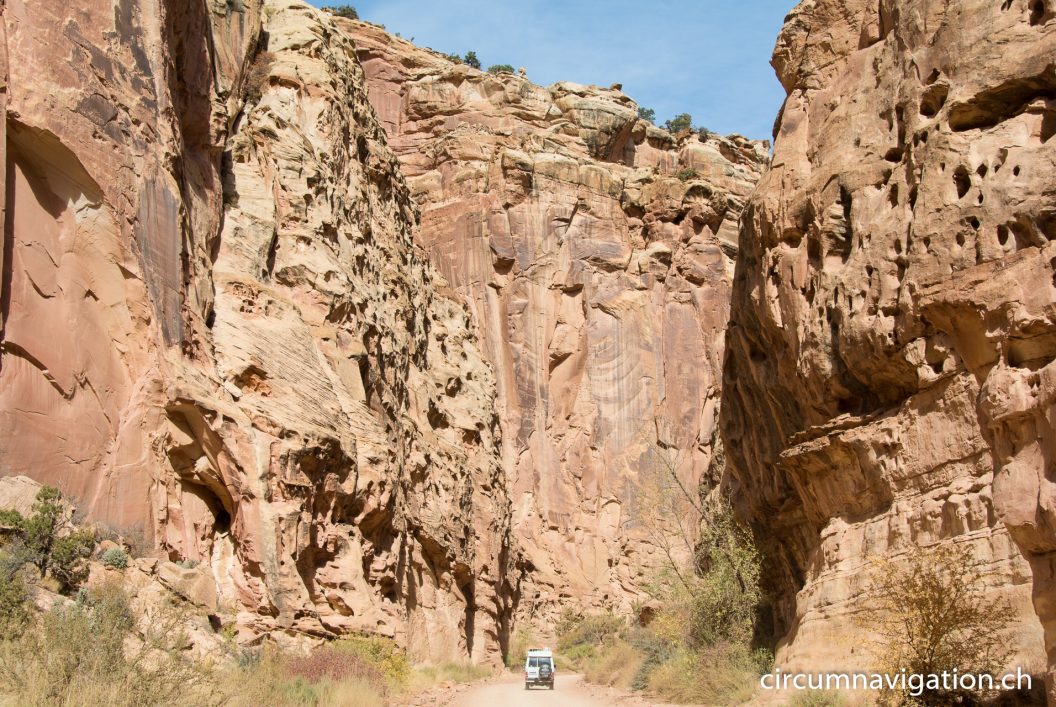 On October 19th, after a leisurely drive under a blue sky, we reached the Capitol Reef National Park. It is described in the Lonely Planet; 2008 edition as follows: Less visited than the other NP in Utah. But the guide is twelve years old, and we were curious to see what has changed in this regard.
We reached Fruita, where the headquarter of this National Park is located, late afternoon and decided to postpone the visit to the following day. Just outside Fruita we found a spot on the Fremont River, where we spent a quiet night. The following morning, we went back to Fruita. A fitting name, because here the Mormons planted the first apple, grapefruit and pear trees on their trek 140 years ago. The plantations are now fenced. (In the old days you could pick the fruits from the tree, today it's over – too many visitors!)
We followed the Scenic Way, which leads through the park. Gigantic this landscape. We also wanted to experience this on foot. So, we parked Mahangu and made our way to the Grand Wash Trail. It led us into the canyon, framed on both sides by a hundred-meter-high cliff that shone in all shades of red. It was pleasantly cool. Woe to who is out here without water in the summer. Just like we did. But we walked in autumn!
You should not overdo it and so we turned around after two and a half kilometers. We had seen the most beautiful part. And in the parking lot Mahangu waited impatiently for the onward journey.
(Written outside of Boulder, on Highway 12, Utah)