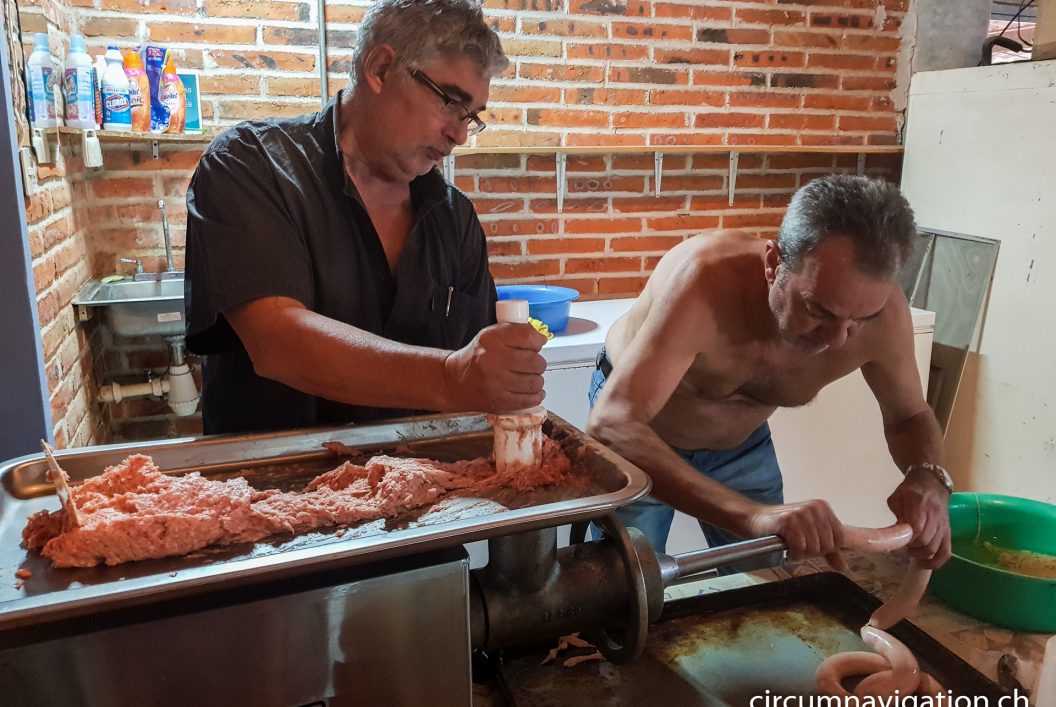 It is well known that Charly can bake good bread. That he took me on as a baker's assistant too! What I didn't know is that he can also make sausages very well. In earlier times he watched in Switzerland how sausages are made. (He eats them – like all eastern Swiss – without mustard!)
When we came back from Roberto on July 20th, 2020, Charly informed us that he and Alois, the son of a farmer from Aargau, had prepared everything to produce sausages. The spice mix was ready and the meat was in the cooler. Now it would be a matter of making the sausage meat and filling it into the small intestines that Charly had obtained the day before and untangled with Alois.
First, the pieces of meat – pork shoulder and bacon – were rotated through the meat grinder. Then Charly tipped the mass with the spice mixture into the mixer. The mass was then pressed into the bowels with the meat grinder, using a funnel. I was fascinated to see the two sausage makers doing their perfect teamwork and glad that my help was not needed. (I had enough to do with taking pictures!)
PS. Now the sausages are in the freezer. We'll test them tomorrow. But they certainly taste even better than the sausages in Switzerland. And I can eat it with mustard!