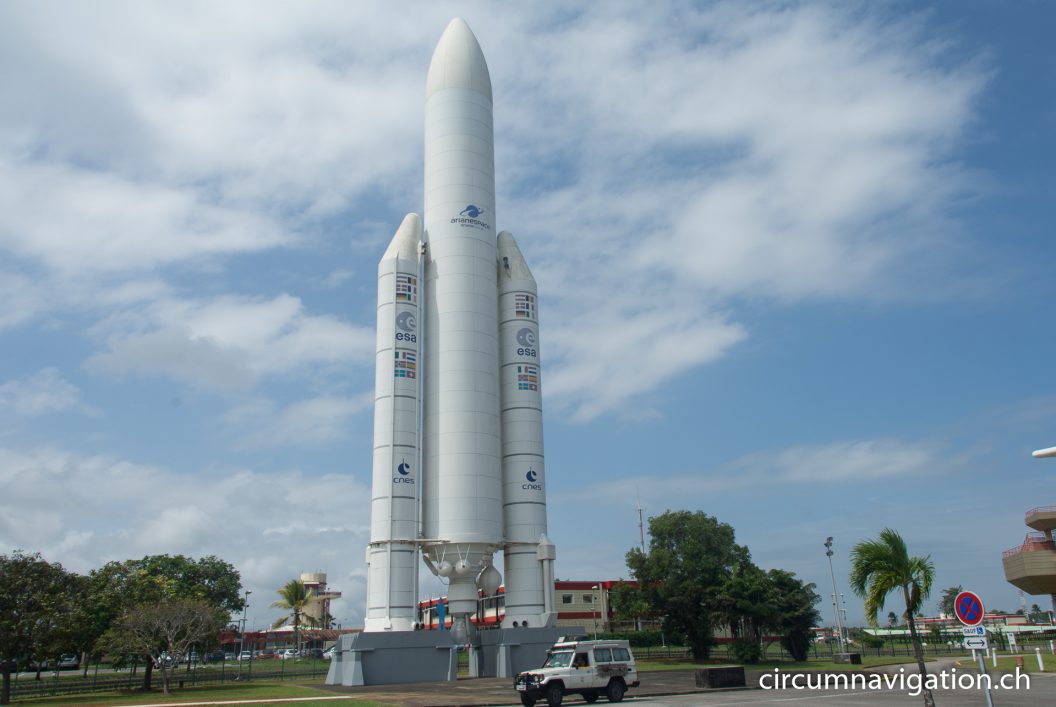 The US has Cape Canaveral. The Russians have Baikonur. And the Europeans have Kourou to shoot rockets into space! Kourou is a small town about 70 kilometers from Cayenne. Actually, a town to pass by, if there were not the space station of the Europeans. From here, Ariane, Soyuz and Vega rockets are brought into orbit with satellites on board. On December 24, 1979, the first Ariane rocket had been launched in Kourou.
However, the CSG (Center Spaciale Guyanais) is not just a matter of the French and the «Grande Nation». Also, in attendance is the ESA (European Space Agency) and thus also Switzerland! Thus, in addition to the Tricolore and many other European flags also that of Switzerland can be seen – even on the Ariane! (She is the only one who is square, which makes her extraordinary as well.)
Why did the French opt for Kourou after giving up their station in Algeria? There are important reasons for this: Kourou is close to the equator; that is, where the gravitational acceleration is greatest. This saves fuel to accelerate the rockets and at the same time increases the payload of the missiles by 15 – 30%. (An Ariane V can carry up to 6 tons of load into space.) Further Kourou is not endangered by earthquakes, the area is sparsely populated and rockets are launched across the ocean. And there are no hurricanes here either!
This is why Kourou is increasingly becoming the preferred starting point for customers from all over the world. And the Ariane, the preferred missile. If it is too big for the customer, then he can opt for the smaller and therefore cheaper Soyuz rocket of Russian provenance or for the VEGA, which is mainly built by the Italians.
We only missed the launch of a Soyuz rocket by a few days. But we got to know the crew that assembled the rocket here. Well, we can also speak some chunks of Russian! Nasdrovje Tovarich!