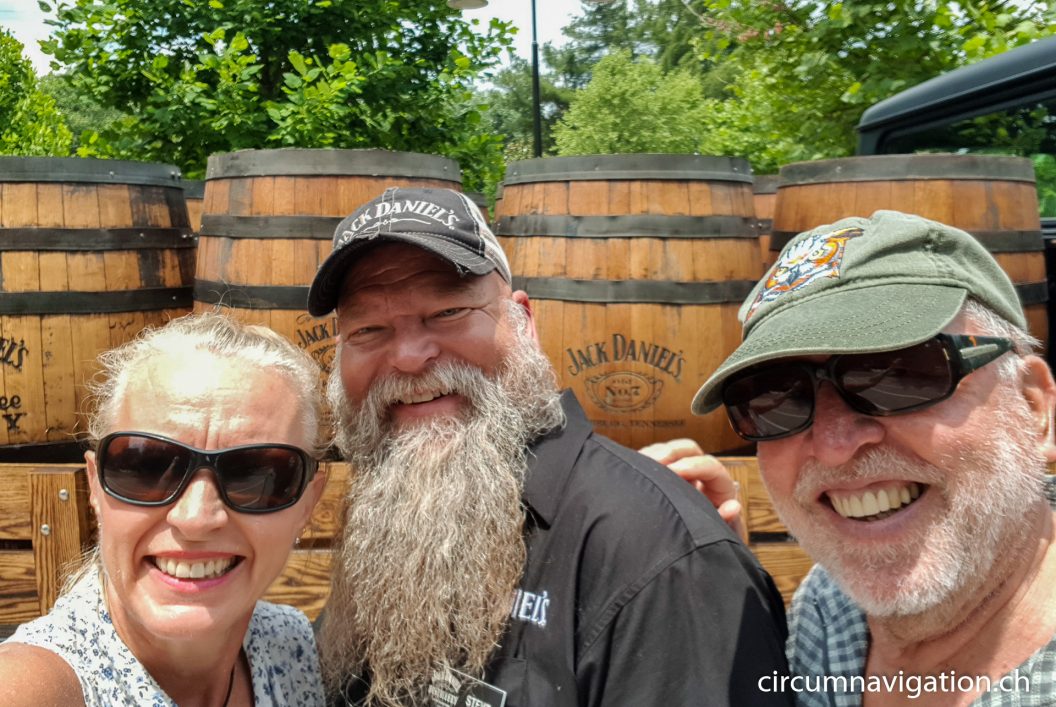 On May 30, 2019, we reached Lynchburg, a small village with 500 inhabitants in Tennessee. But as small as the village is, so big is what is produced here: Jack Daniel's No. 7. A whiskey, knighted by Frank Sinatra with the words: «The nectar of the gods and the best booze in the world».
Eleven years have passed since our first visit. A long time, in which a lot happened in the little Lynchburg! The parking lot is around three times as big as before. From there you can take a bus to the Welcome Center. There you will be greeted – as before – by a JD employee, who could have appeared from a JD display. (He gladly accepted our request to take a picture with him when we showed him the photo Brigitta made with his colleague eleven years ago.)
We bought the tickets for a 1 1/2-hour tour. It was more than worth the money (US $ 40.-). In the meantime, at the end of the tour, you can taste five different JD products. Lynchburg is a dry county – a community in which no alcohol be served! But for JD, the main employer far and wide, they made an exception. Since a few years, visitors can taste and buy the product that is made here!
The only reason I didn't buy a bottle of Jack Daniel's No.7 was because we still have a bottle of Wyoming Whiskey on board. More info about one of the best Bourbon whiskey in the world: Jack Daniels