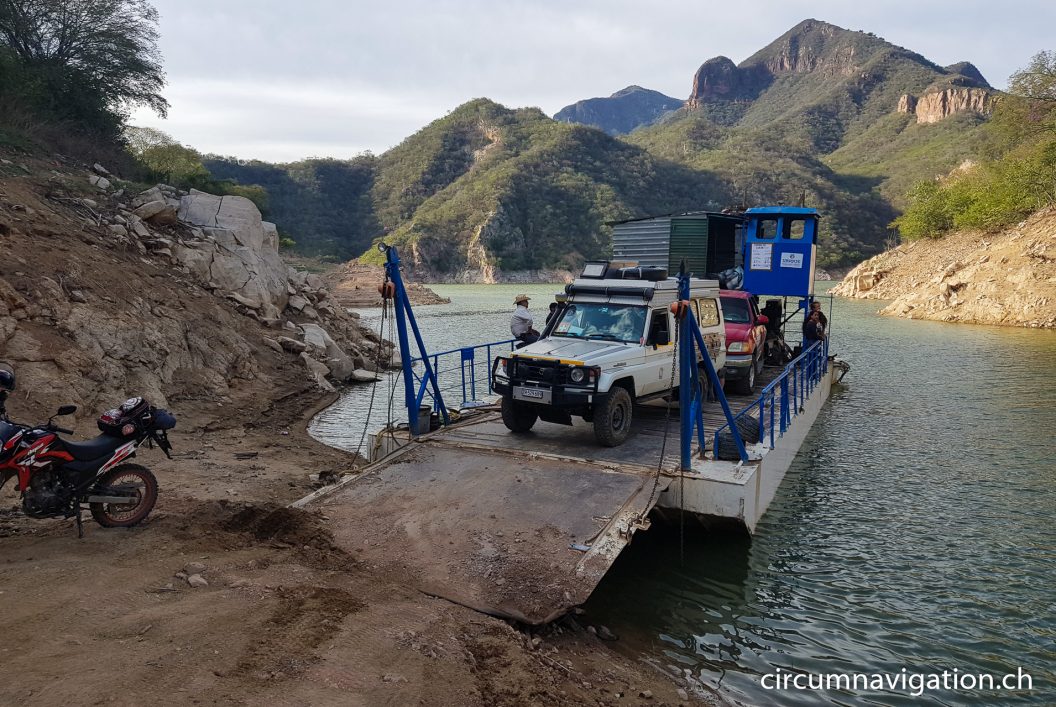 Twenty kilometers outside of Choix we turned onto a dirt road. Brigitta had entered the route to Urique in the GPS. So, all we had to do was follow the course that the Garmin showed us. We knew from various travel blogs how the road condition was. (We had chosen a different route twelve years ago when we drove to Urique for the first time!)
The road led up and down to a reservoir. A red Ford 150 pick-up overtook us shortly before the ferry dock. Five people sat inside and one passenger sat with the luggage in the cargo area. When we got to the dock, the Ford was already on the little ferry. But there was still room for us as well. A good thing, because the next ferry would not leave until 8 am the next morning.
Without 4-wheel drive and gear reduction, I would not have made it onto the ferry. The descent, which we reached after thirty minutes, was just as critical. Saul, the driver of the Ford, already told me on the ferry that this track can only be driven with 4×4 and low gear. That's true as we experienced! Mahangu was challenged again that day. And the driver and the co-driver too …
PS: Saul and his father invited us to spend the night at their "Rancho". So, we spent the night surrounded by chickens and a rooster that woke us the next morning at 5:30 am!