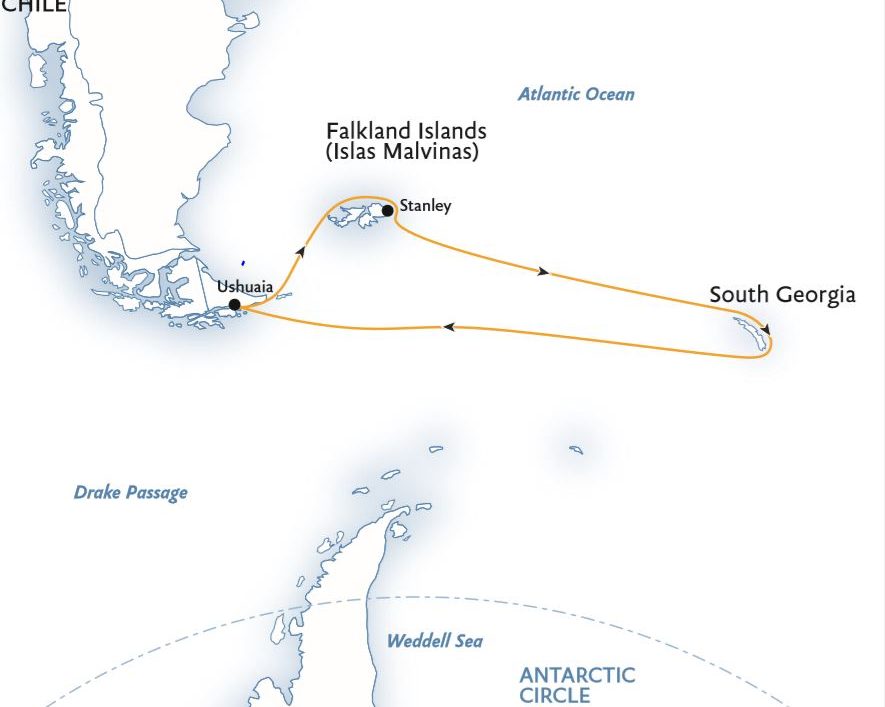 At the top of our Bucket List is a visit to South Georgia, also known as the «Galapagos of the Poles». When we were in Ushuaia at the beginning of the year, we tried everything to make a detour to this island. But we were too late. The season for travel to this area was drawing to a close. And the ships that were still sailing all went to Antarctica. But we visited it in 2001 on board the Russian icebreaker Kapitan Dranitsyn. And we didn't want to repeat a unforgettable trip like this one on a deeper level.
Before we left Ushuaia, however, we deposited our interest for a tour to South Georgia with two travel agencies. And then, on 8.11.2018, we received an e-mail from Antarctica Travels. The tour advertised there was tailor-made for us: 17 days on an ice-strengthened ship with only 132 passengers. The trip with the Ocean Adventurer from 23.11. – 9.12.2018 would take us exactly where we always wanted to go: to the Falkland Islands (Malvinas for the Argentines) and to South Georgia where Ernest Shackleton 1915 sought help for the crew of his ship Endurance, that was frozen in Antarctica. A place steeped in history. And one where you can see king penguins, sea elephants, albatross and seals in large number.
When we saw the price (Last Minute offer) it was clear to us: This is the opportunity to make this dream come true and to remove something from our bucket list. On 10.11.2018 Brigitta also celebrated her 55th birthday and I didn't have to worry about what I could give as a present to her!
The next day passed with the money transfer, with flight and hotel reservations and other clarifications. In the evening it was clear: On 22.11.2018 we will fly from Belem to Ushuaia and on 10.12.2018 back again. In between there will be an unforgettable tour to the Falkland Islands and South Georgia!