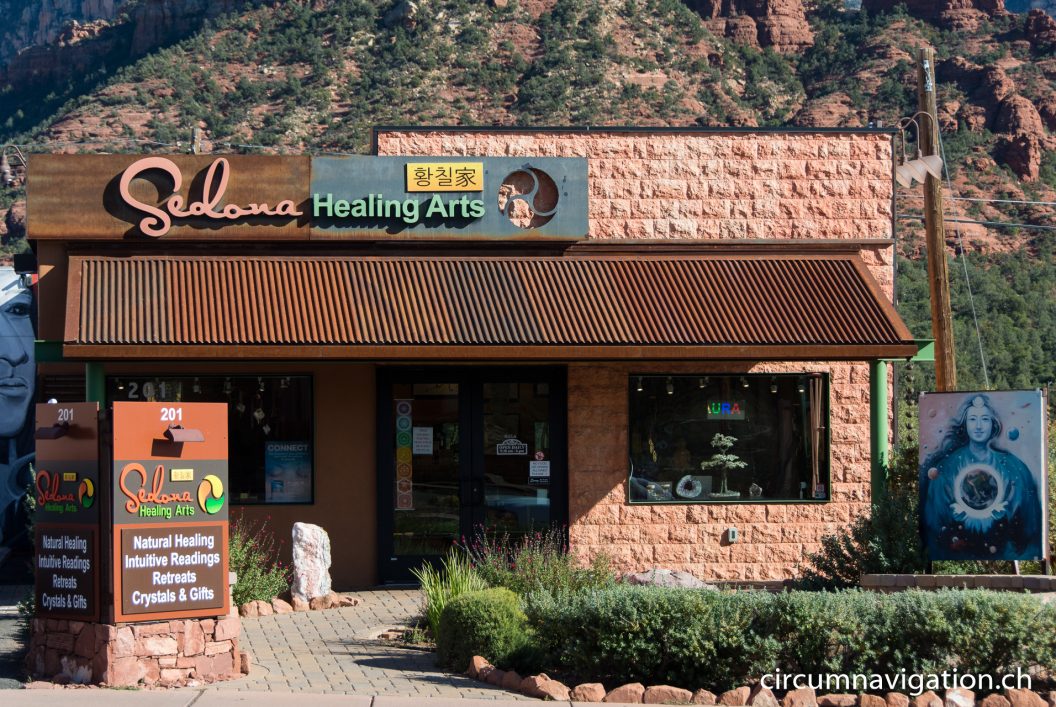 Just fifty kilometers south of Flagstaff lies Sedona. The town is surrounded by red rocks and known for the nearby Slide Rock State Park. But Sedona is best known because it is considered the US center for people who are committed to the New Age.
New Ager are people who are in search for alternatives of religion, psyche and enlightenment. And they hope of finding everything in Sedona. New Ager want to change themselves and so the world. And all that can be achieved in Sedona: massages, nutritional advice and yoga. (I prefer the yoga exercise «Chicken a la Satay»!) But there are also other unusual services offered. For example, crystal healing, return your soul to early life (!) and such humbug more. There are massages that get along without any contact and cure drinking addiction. Impressive! We were looking forward to Sedona! Whether we are enlightened here. (The batteries of my headlamp are weak anyway – that would be the right moment!)
At 11/7/2019 we reached the town, after we had spent a week at Flagstaff in an Airbnb. The enlightenment has not happened until now. But the town actually radiates a special atmosphere. But that may also be due to our presence …
PS. Everything humbug? The Owner of the Airbnb in Flagstaff has told us that a good friend of him with a few entrepreneurs had the New Age idea and therefore ​​making Sedona to what it is today. A money machine for some locals.