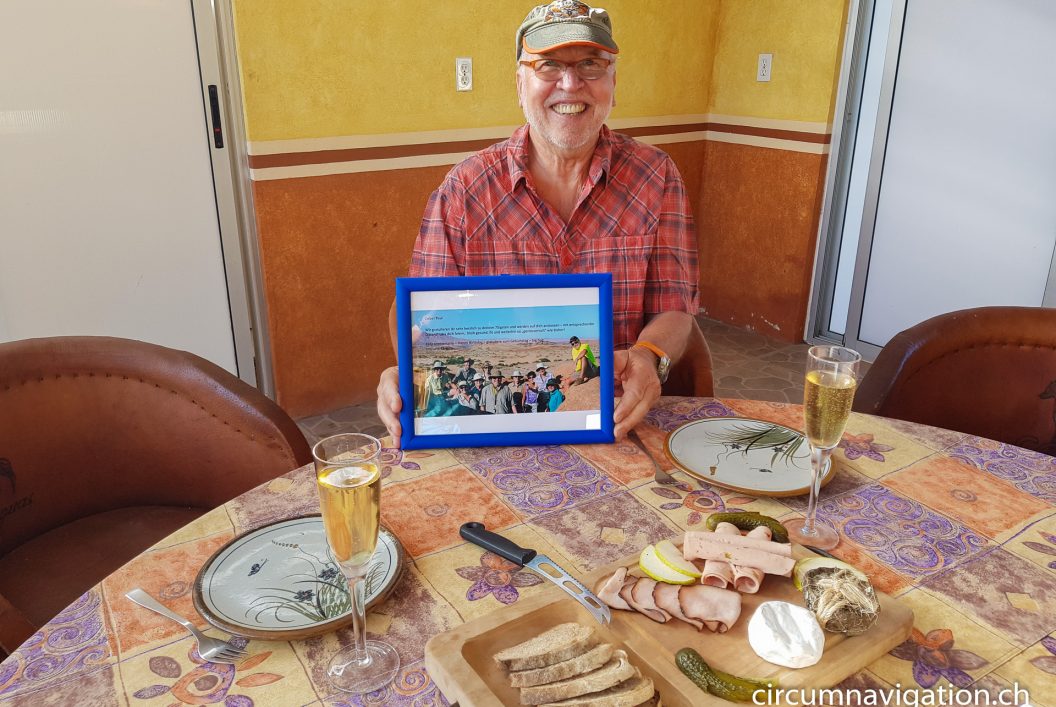 … the Beatles sang many, many years ago! We actually wanted to celebrate my 75th birthday in Tahiti. But we didn't make it there – not least because of the Corona virus. The borders to the south have been tight for months; and we're stuck in Mexico. But what does mean «get stuck» really! We cannot have it any better than here! After two weeks at the Balneario with Roberto we went back for my birthday to Charly's Restaurant.
April 14th started with a champagne breakfast in the Chambre séparée. We were amazed when a picture of my 70th birthday in Namibia was on the table. Friends in Switzerland had organized the breakfast and emailed the picture to Charly and he fitted it in a frame! Muchas gracias! And now I celebrated my 75th birthday here, which is not a given either …
And then Dinner! For starters there was Guacamole with filled eggs. Then a beef steak tatar with crispy bread. It was a pleasure! The excellent meal was accompanied by a five-member Mariachi band that played «Cuando sali de Cuba» especially for me. It was an unforgettable day!
PS. The absolute top followed at the end: Charly and Urs had prepared a special dessert. And I got the biggest piece in the shape of a heart! What a life!