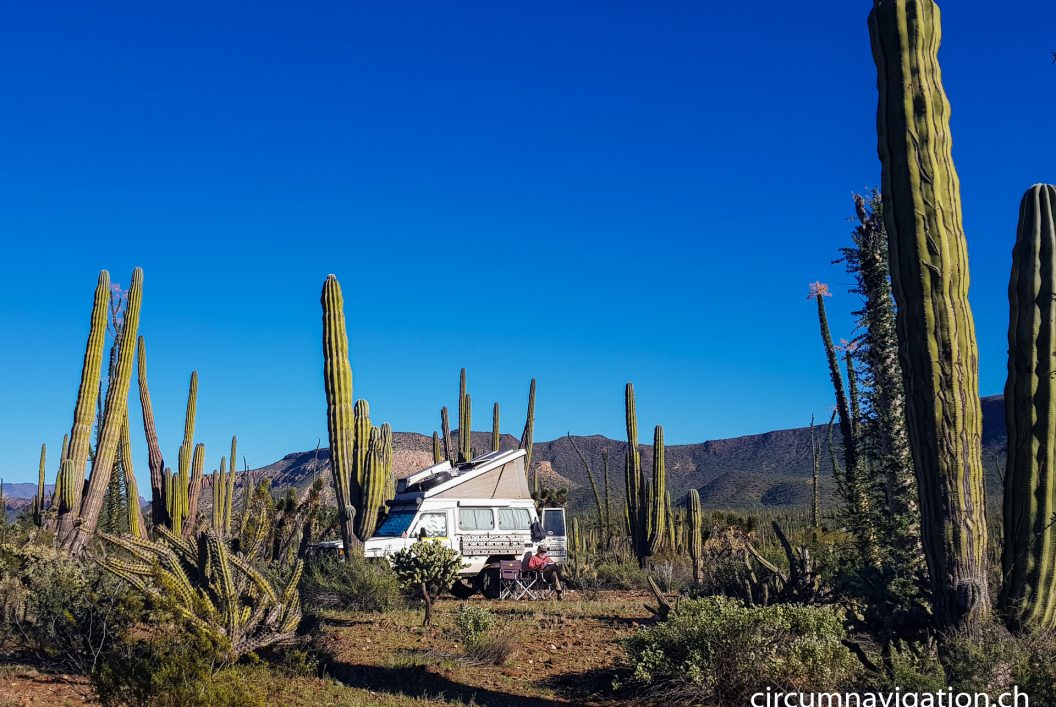 After four days on the beach in San Felipe, we continued further south on January 27, 2020. We will remember the days and the restaurant here well. (Fish and seafood were always fresh and the Tecate beer was cold!)
The Mex 5, which runs along the Sea of ​​Cortez, was formerly a dirt road. But since the end of 2019, it has been fully tarred. That makes driving more comfortable; but the route also lost much of its charm. In the early afternoon we left the asphalt and returned to the dirt road. We liked the landscape that we saw here so much that we decided to explore the area on foot and stay one night.
The next morning the journey continued towards Bahia de los Angeles. We planned to stay there for a few days, but unfortunately the campsite was occupied by Snowbirds. We decided to leave the coast and drive to the San Borja Mission. The stony track led us through a garden of Eden! We made only ten kilometers an hour because Brigitta kept asking me again and again to stop so that she could take some photos: Boojum trees, house-high Cardone and Senita cacti, blooming Ocotillos, Agaves, Chollas and other prickly plants. Simply gigantic! We thought we were driving through a botanical garden!
PS: Speaking about San Borja Mission: When the Jesuits arrived here in the 18th century to bring Christianity closer to the "savages", there were over 4,000 of them. Sixty years later there were only a few hundred. The others were carried away by the diseases that the priests brought with the cross into the country. (Today one would rightly denounce that as genocide!)