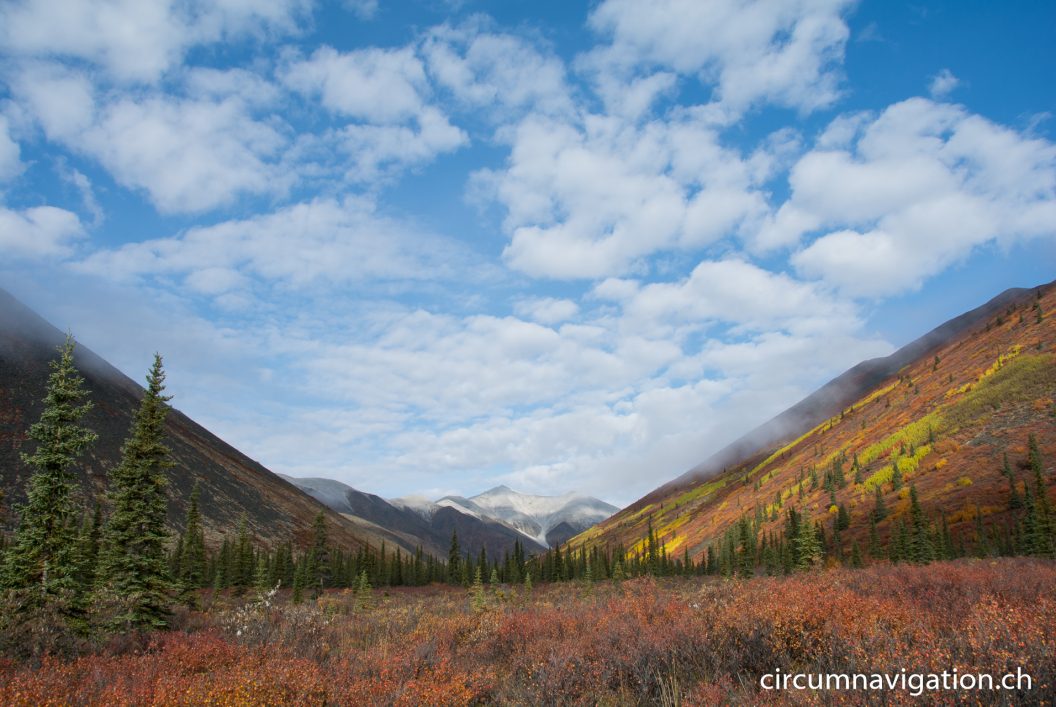 Inuvik, in the language of the locals «Place of the People», we reached on a bright autumn day. The unforgettable drive to Inuvik compensated the fact that Inuvik is a village without a soul. One that has nearly 4,000 inhabitants, but – unlike Dawson City – has no history. Or one associated with oil exploration. Never was the adage «The way is the goal» better than here.
The Dempster Highway, which ends here after 460 miles, is one of the most beautiful dirt roads we have ever driven. It is in very good condition, well main-tained and leads through beautiful landscapes. All trees and bushes shone in the most beautiful autumn colors. Where the highway leads through the tundra, the grass shone in a deep red. In between, tiny and larger lakes glittered. It was a dream!
When we crossed the Arctic Circle, we couldn't have been happier. We had reached another goal of this trip. About forty miles later, we reached the border between Yukon and the Northwest Territories. The night we spent surrounded by forest and squirrels in a national park. As always up here in the North, signs warned about bears. We didn't see any bear or caribou but that can change on the return journey. We are already looking forward to this. But first we drive to Tuk, to the shore of the Arctic Ocean!
PS: The 85 miles dirt road from Inuvik to Tuk is no longer part of the Dempster Highway. It was opened only two years ago and is officially called Inuvik-Tuktoyaktuk-Highway. (For us it is the ARCTIC HIGHWAY!)