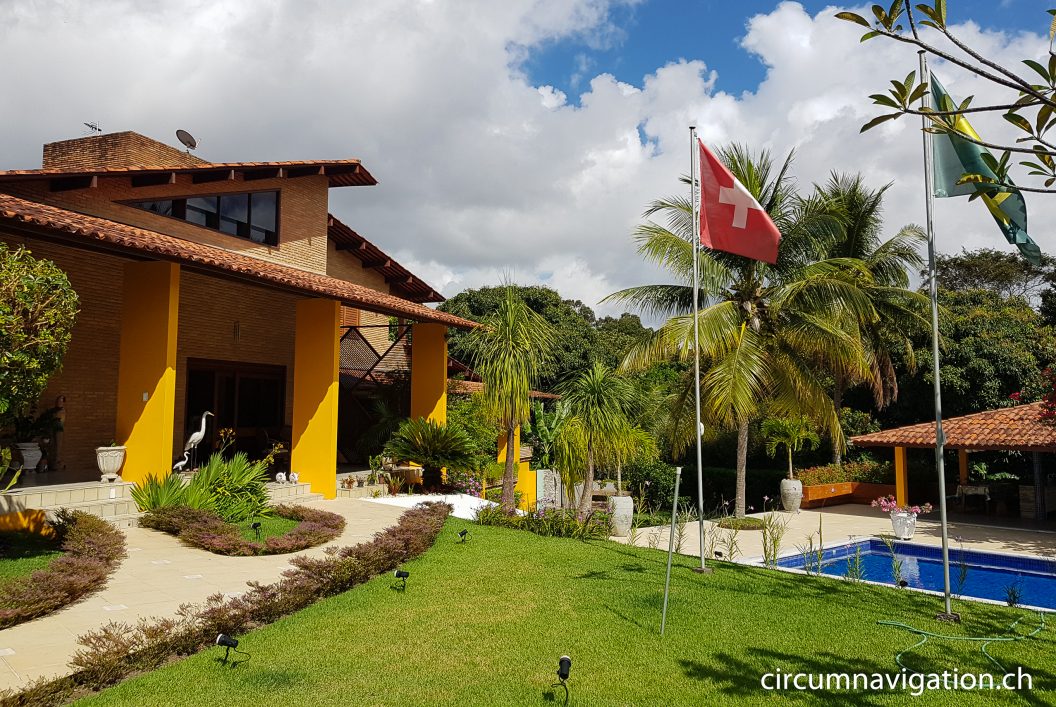 We were lucky enough to know Cristina in Maceio. She has been a widow for a couple of years and was married to Ernesto, a Swiss whom we met eleven years ago. That is also the reason why not only a Brazilian but also a Swiss flag sways in the wind in her garden!
Since our first visit, contact with Cristina has never stopped. This is easier in the days of WhatsApp and E-mail! When she heard that we were in Brazil, she invited us to her house. Here we enjoyed after the 5'200 kilometer drive through Brazil a home with swimming pool. It was nice to enjoy a bit of luxury. These include an oven, a daily shower, a washing machine, a good food selection, ice cold beer and fresh milk. (The UHT milk that we drink otherwise does not inspire us!)
After a week's vacation in Maceio, we drove south to Salvador. There we experienced unforgettable days in this strongly African city. On the return trip north, Maceio was once again on our way. Meanwhile, Cristina was on vacation in Spain – the house was empty. She made it available to us with everything inside. This included Divertida, a lovely cat that has become dear to our hearts.
We gladly accepted the offer and spent another five days here. We ate special food we can't normally during travelling: Beefsteak Tatar (800 grams finest filet for CHF 15 .–). We enjoyed Sushi and Sashimi. We bought passion fruit ice-cream and filled our bellies with it. And I drank fresh milk every day – what a treat! (Well, there were other drinks we awarded as well …)