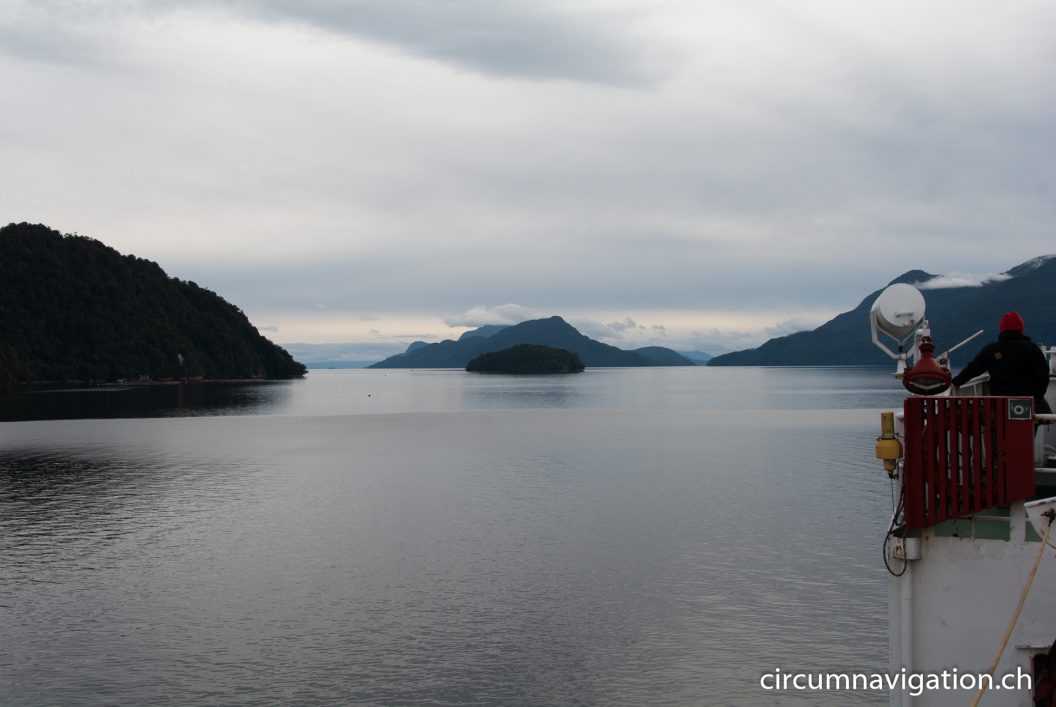 It was Lautaro who gave us the idea to take the car ferry from Puerto Chacabuco to Puerto Montt. A sailing of about 24 hours lay ahead, which would take us through the spectacular fjords in southern Chile! This had several advantages: First, we did not have to drive 600 kilometers over the evil Carretera Austral. Second, we would see some of the spectacular fjords of southern Chile. Third, I would spend my 73rd birthday aboard a ferry – an unforgettable experience!
On Friday, 13.4.2018 (we are not superstitious) we made our way to Puerto Chacabuco. The farewell was difficult for us because we had grown very fond of Gabi, Maurizio, Josefa and Anemie. Once more, we were said goodbye with waving and tears in our eyes. We heard the Hasta luego shouts until we turned the corner!
We drove slowly so the vibrations did not cause the badly damaged windscreen to burst. One hour later we reached Puerto Chacabuco. The MS Coyhaique lay at the pier. At 1.30 pm Lautaro arrived. He had to pick up a new transmission in Santiago – not for us, but for a Jeep Cherokee! Together we drove aboard and parked the vehicles. Then we went up to the bridge. What a view! In the foreground the deep blue fjord, in the background a snow covered mountain range. Yes, Patagonia is beautiful – we will miss it! We didn't stay in a cabin; we would sleep in the roof tent! For the first time after the accident!
At 2.20 pm the ferry set sail. The first hours we sailed through narrow fjords, later past some salmon farms. We made friends with the crew on the bridge. After we told them that we had spent 34 days aboard the Grande Amburgo from Hamburg to Montevideo; our reputation rose! The next hours we marveled and watched. At 10 pm we descended to the lowest deck where Mahangu was parked. Meanwhile, the wind had freshened up. We decided not to open the roof tent. Brigitta slept in the front seats; I made myself comfortable on the bench.
The next morning I spoiled Brigitta with a hot coffee. There were also a few Milka biscuits. After that we climbed back onto the bridge. Five minutes too late – the Southern Right Whale, who wanted to congratulate me on my birthday and emerged from the floods, had already passed. We only got to see the proof on an iPhone! At 12 o'clock the silhouette of Puerto Montt appeared before us; two hours later we landed.
Behind us was an unforgettable drive through the fjords of Chile. Before us, the snow-capped peak of a volcano climbed into the sky. What an arrival in the city where the Carretera Austral begins!
Would like to see more? Have a look at our Clip.