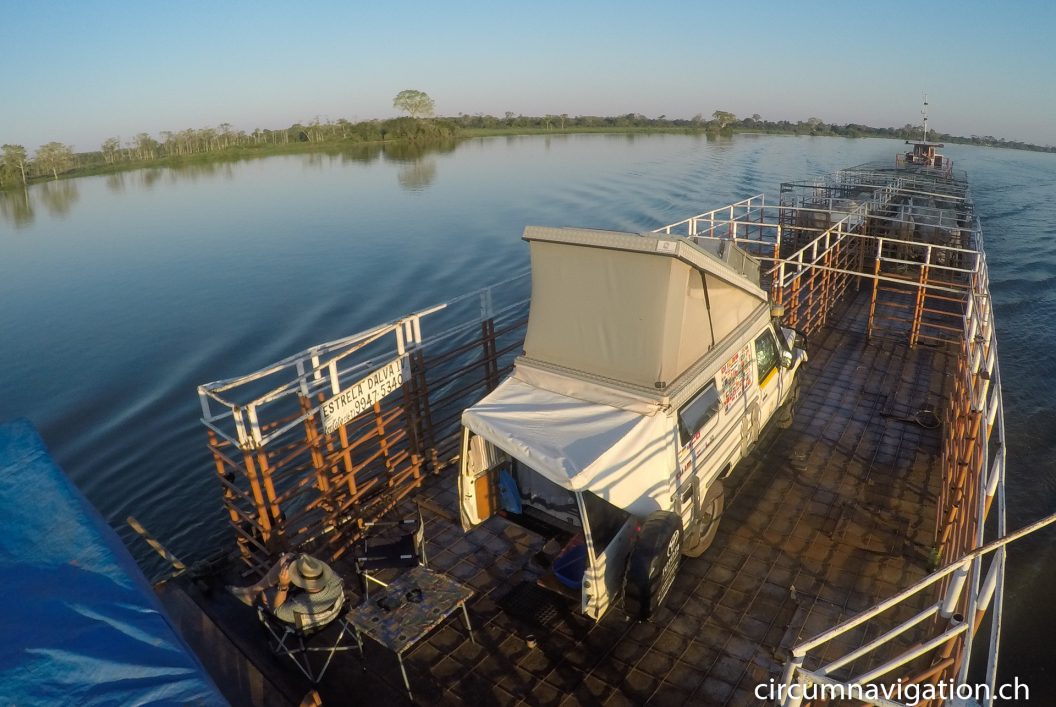 There were already two days of rafting behind us, leading us past a green wall that was occasionally interrupted by simple huts or a fazenda. In the middle of the night, on Sunday, while we slept, our convoy moored at a fazenda – somewhere in the nowhere. There, the pontoons with the zebu cattle and the one on which our hammocks rocked for three days were suspended. We were amazed when we looked at 5 o'clock in the morning out of our roof window. Our pontoon was sitting alone on the shore – from the other two pontoons and the pusher ship was nothing to see. But we were in good hope, that we will be picked up again. It was like that in the end.
At 6 o'clock we chugged the Rio Cuiabà further upriver. We were told that we would be on the river for another eight hours until Porto Jofre. This with a slightly increased speed of 7.5 km/h! Without hammocks, under a shade roof, the pleasure was only half as before. Luckily we found some shade on the side of Mahangu. As even this shade disappeared by the midday sun, we switched to the shade in front of the captains steering house. We were given a last, simple but tasty meal and served an ice cold soft drink.
On Sunday, 9.9.2018, after 60 hours and over 400 kilometers, our convoy reached Porto Jofre in the early afternoon. The MS Laura Vicuña docked on the shore. Two thick boards were put into position again. Then they directed my backwards (!) down the planks. I drove slowly, very slowly over the boards. Uff, done! When we stood on solid ground again, we gave the crew a tip and thanked them for the unforgettable «cruise». It was one that we will never forget!
About the Zebu cattle: We like the Swiss cows better than these white cattle with floppy ears and humps. But the zebus grew to our hearts as we saw them survive the sun and lack of food without complaint. Water drawn from the river was all they got during these three days. Swiss cows would have been complaining the whole night and would have kept us from sleeping.
Check out the Clip to our rafting tour.