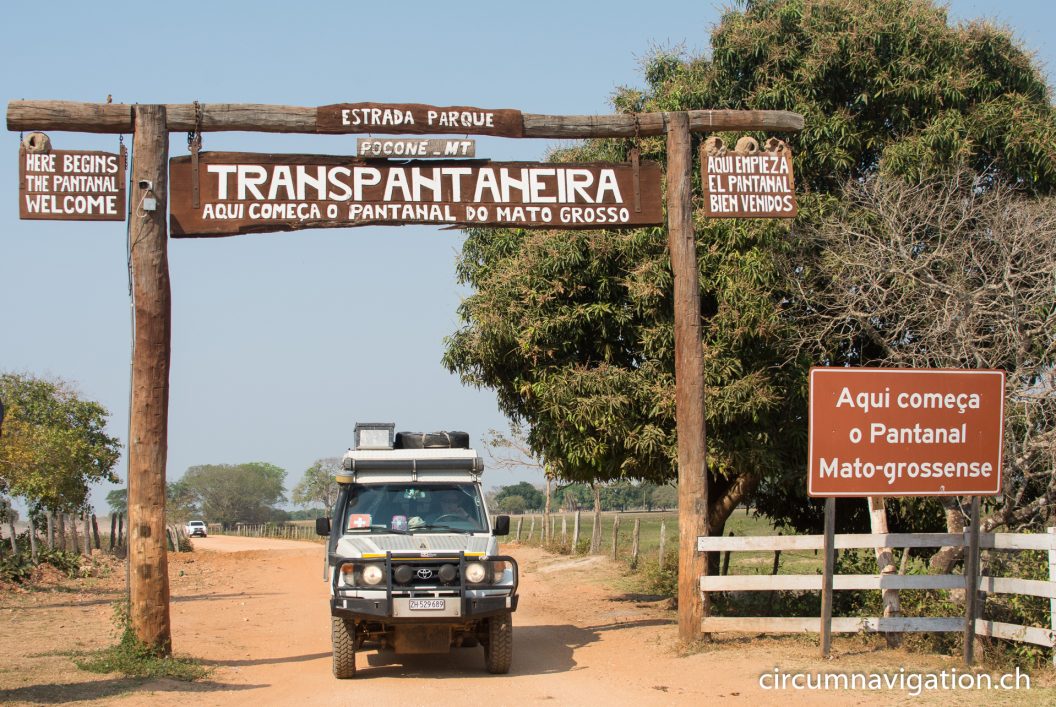 On Tuesday, 11th September 2018, we said goodbye to Porto Jofre and the Jaguars. We will never forget what we have seen and experienced here. Anyone who wants to see Jaguars in the wild (!) should take a trip to the Pantanal.
We started in the early afternoon. In front of us lay the Transpantaneira, a gravel road that runs for 250 kilometers through the northern Pantanal. You cross several dozen wooden bridges, some of which are in a deplorable state. No wonder, the driver will – where possible – go around. You drive (currently) through dry riverbeds, but in the rainy season, that's another thing. One then has the choice between getting stuck in the swamp; or takes the risk that one of the wooden bridges collapses. As heavier the car as bigger the risk!
We were disappointed with this ride. This may also be related to the fact that is the end of the dry season now. The southern Pantanal was wetter and fascinated us much more. Here the streams and ponds are drying out. At present one can see several hundred (!) Caimans sharing the water what is left. It will not be before long and they will fall over each other due to lack of food. For my this would be ok – my favorite animals look different!
In the evening we camped on a sluggish river. It was nice because we received the visit of many birds here; less beautiful, was the trash that was lying around everywhere! The next morning, on the onward journey, we got to see many water and other birds. Especially Jabirus, which reminds us of the Marabout stork in Africa. The few ponds that still have water were filled with herons, storks, ibis and caimans. At least every five minutes, we spotted a Giant Kingfisher – my favorite bird!
A few kilometers before Poconé we reached the sign announcing the beginning of the Transpantaneira. Shortly thereafter, the gravel road changed to tar. We were now in the state of Mato Grosso. In front of us lay Cuiabà, a town of 500,000 inhabitants and skyscrapers. And only a day's journey away from the Jaguars!