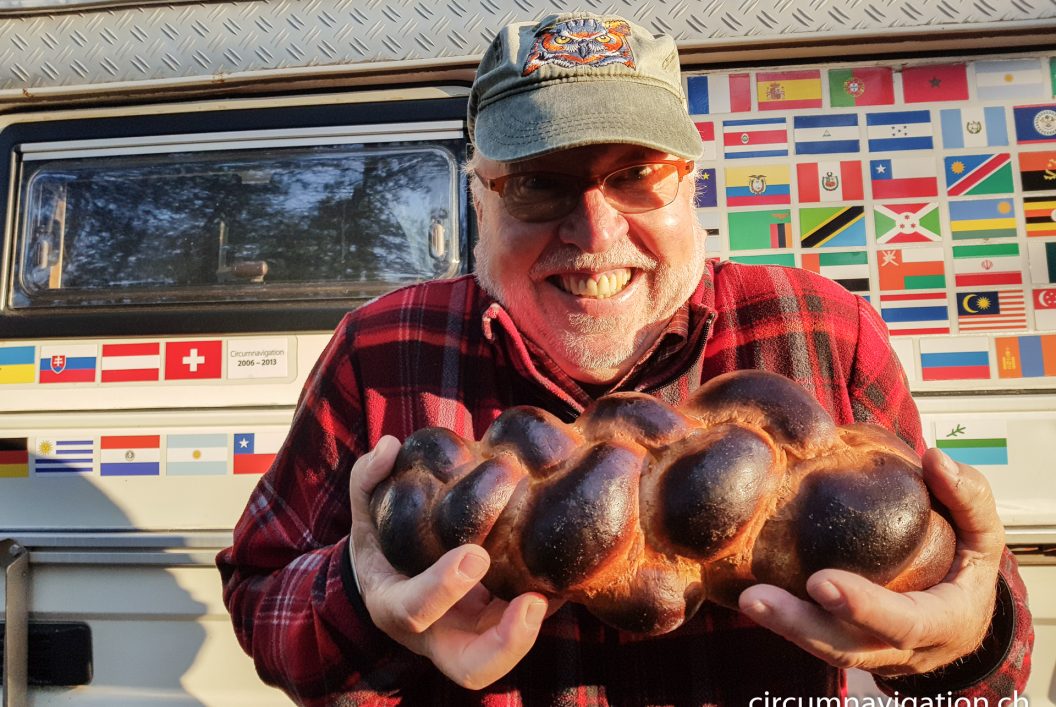 On August 28, 2019, at 9 o'clock in the morning, we had a visit from a US cyclist on the way to Fairbanks. One who doesn't drive the highway on a heated car seat. But one who sits on a hard saddle and struggles twelve hours a day to cover 100 miles. We had regrets with the poor guy who looked frozen. Brigitta made Allen a big cup of strong coffee. We also served him a banana and a whole bar of Lindt chocolate. Rarely have I seen anyone who enjoys chocolate more!
At 9 o'clock we continued our drive towards Whitehorse. After a few kilometers, we overtook Allen, who waved merry – the chocolate seemed to work! At a comfortable 80 km/h speed, we enjoyed the immense forests that passed by. Oncoming traffic showed that Alaska is beginning to empty and the Snow Birds are on their way south. There, in Baja California, in three months of now, we will meet some of them again! We did not see any animals, apart from the crows, which can be seen everywhere. The crow is the «State Bird» and the only one who keeps faith in Yukon even in winter and does not move south like everyone else does.
Shortly before Whitehorse we saw the advertising sign for the Caribou campsite. When we saw the Swiss flag, it made «click»! Here we were already 11 years ago. And in the attached restaurant Wolf's Den a Swiss couple prepares delicious food! I activated the indicator and turned right. Tonight we are guests at Wolfs Den and let us spoil with a Swiss specialty. Maybe Fondue and Fendant? Cool enough it is already up here to eat a Fondue!!
PS: Tomorrow there is bread for breakfast! Bruno, a Swiss baker, emigrated to Whitehorse thirty years ago. Here he bakes bread as good as we are used to in Switzerland!