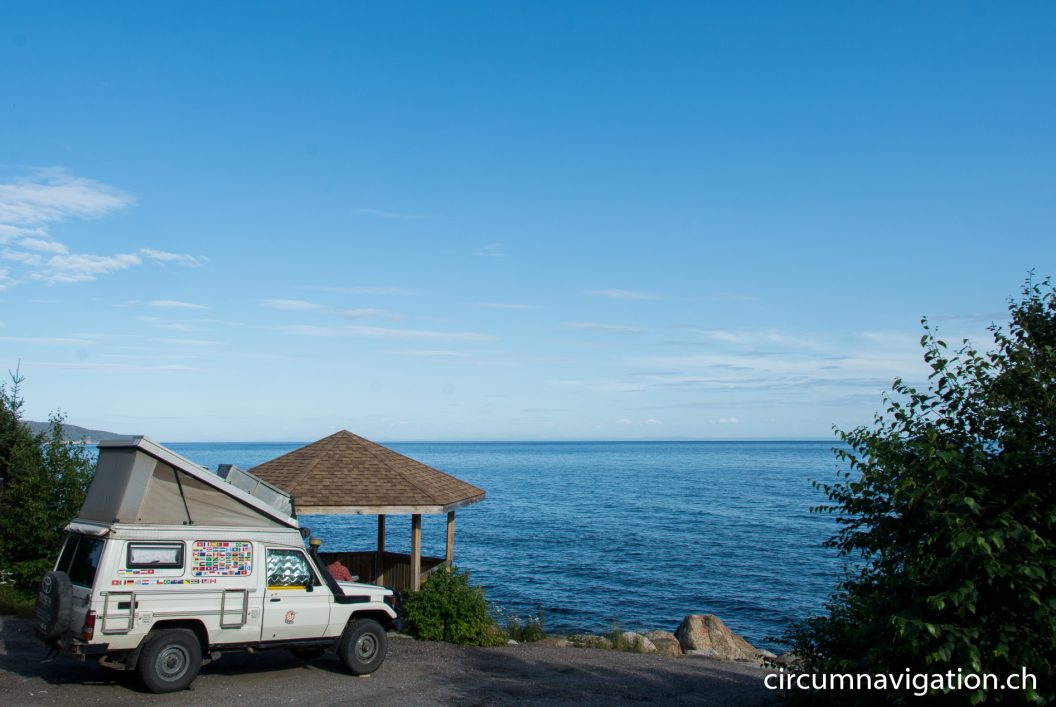 On 31st July 2019, after travelling for five days and 2'000 kilometers through Labrador and Quebec province, we reached Baie Comeau, a small town on the St. Lawrence River. We had seen a lot of water on this trip, but this river has another dimension. As a European you think of big rivers like the Rhine or the Danube. But those and many others are small if you compare it with the St. Lawrence river.
«Now we have reached the sea again,» I said spontaneously when we saw it. In front of us a huge area of ​​water stretched out. Water as far as the eye could see, nowhere was land to be seen. Only with the binoculars did we discover the outline of the Gaspé Peninsula on the other side. And when night came, the weak lights of the towns could be seen on the other side.
An employee of the Microbrewery in Baie Comeau, whom we visited the next day, answered to our question, whether the St. Lawrence River is not an inlet: «No! It is our river and you will see the difference once you are in Quebec!». And indeed, when we arrived in Quebec a few days later, the broad St. Lawrence River had become an ordinary river. Its mightiness shows this stream only where it forms the St. Lawrence Bay.
PS: The St. Lawrence River drains the Great Lakes to the Atlantic. The name also refers to the 450-miles-long Bay, which opens like a funnel to the Atlantic.
(Source: Wikipedia)