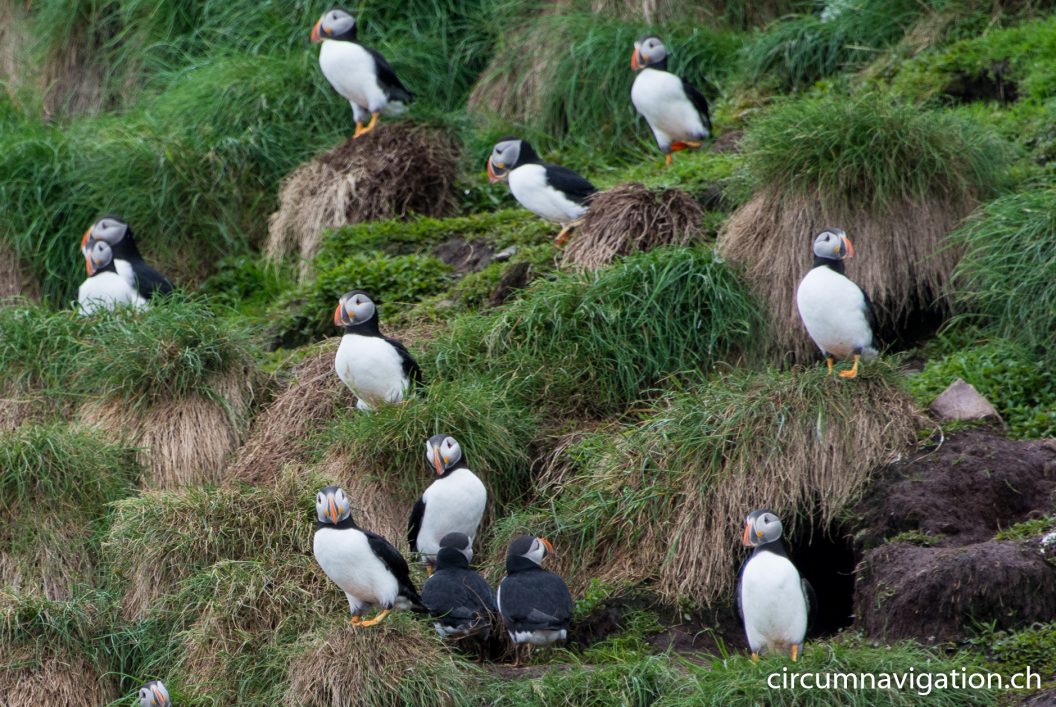 After almost a week in Newfoundland we have already seen a lot. What was missing was a visit to the Puffins; the small sea birds with their colorful beak.
On July 11, 2019, at 11 o'clock, we were in Bulls Harbor. From there, the boats of the company O'Briens set sail. The trip lasts two hours and costs CAD 60.–. For that a meeting with Humpback whales and 500'000 (!) Puffins is guaranteed. Dividing the amount you pay with the number of animals you see it's an excellent deal!
Too bad the sky was gray. But at least it did not rain. We were dressed warm, because we had been told the day before that it will be fresh on the sea. (For Newfoundlanders it's not cold – it's summer here!) With a dozen Canadian tourists we chugged out to the sea, sonicated by Irish folk music. We had more pleasure in the explanations of the biologist who was on board.
After fifteen minutes we saw the first blow and shortly thereafter the first Humpback whale appeared. He made a turn and then disappeared in the depths. But not before he showed us his powerful fluke. After that, more whales appeared – it seemed they have been waiting for us.
But we also wanted to see Puffins! These birds only come to breed on land. The rest of the time they spend on the sea. Puffins are monogamous and live up to twenty years. They build their nest, to which they return each year, with their beak into the ground so that they are safe from enemies (eagles and seagulls) while breeding. Puffins are excellent swimmers and dive up to three hundred feet deep. These cute birds look funny with their beak, which is only colored during the breeding season. And currently half a million puffins are breeding on the island, which we headed to next. What a sight!