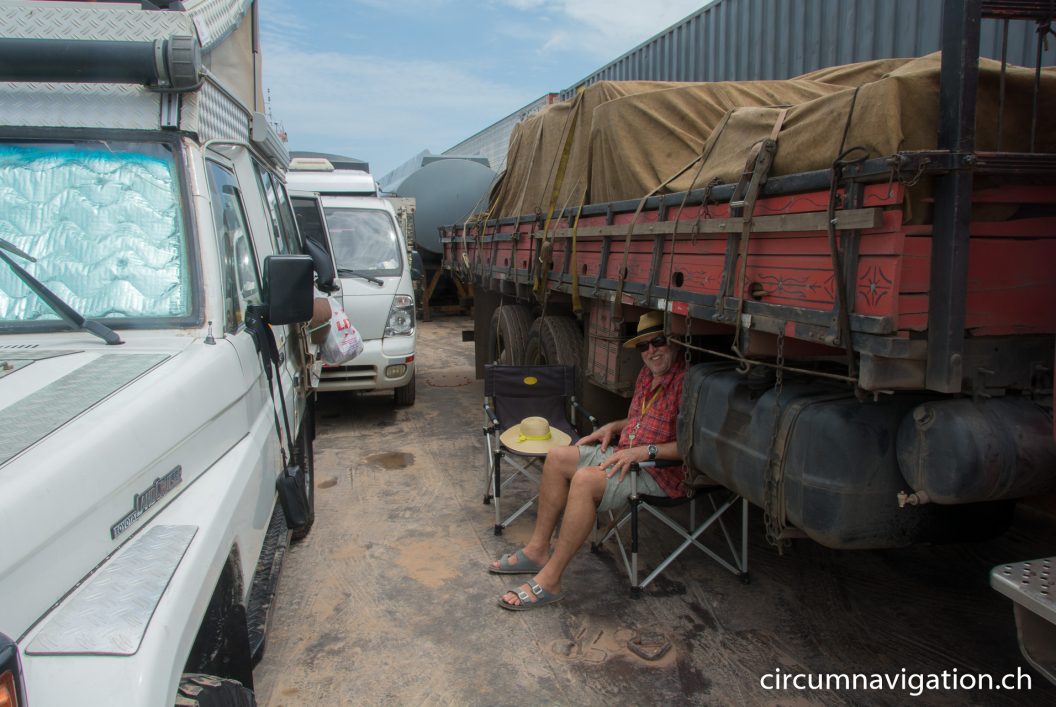 13th December 2018, aboard the Balsa: When writing this post, the sweat runs out of my pores! What a difference to the climate in Ushuaia, where we awoke three days ago at 8 ° C. Now I sweat at 35 ° C and high humidity in the shade of a truck standing next to us on the pontoon, which is pushing us from Belem to Macapa in about 40 hours. There we should arrive tomorrow, during the day.
At the Hotel Monaco, in Ushuaia, where we spent the last night before the return flight, there was no breakfast at 7am. By taxi we went to the airport, where we ordered dos cafés con leche y media lunas. The Boeing 727 of the Aerolinas Argentinas took off punctually and was filled to the last seat. We took a last look at Ushuaia. This city has done it to us, otherwise we would not be here for the fourth time!
Two and a half hours later we landed in Buenos Aires. The connecting flight to Sao Paulo was an hour late. Brigitta realized quickly that there would not be enough time to change the plane. At the counter of Aerolinas Argentinas they saw it the same way. We received a voucher for an overnight stay at Hotel Presidente, including taxi, food and drink. We had enough time before dinner for a long walk. At a street café we enjoyed a Quilmes and enjoyed people watching.
The following morning we were picked up at 4.45am and taken to the airport. Once again we boarded a plane on the long way back to Belem. After two hours, the first skyscrapers of Sao Paulo appeared under the right wing. Here we would have to do the immigration formalities for Brazil. Now it would turn out if there are any problems with entry because we had exhausted our 90 days. (The rule is that after 90 days you have to leave Brazil for 90 days and only then return.) We were both very curious what to expect at the immigration counter. A stone fell from our hearts as the young official squeezed the entry stamp into the passport without asking any questions.
If we were denied entry, then we would have to fly home from Sao Paulo and spend Christmas there – in the cold. (A consolation, however, would have been the visits of our families,  friends, the good Xmas dinner and cookies! And we wouldn't have to sweat as much as here!)