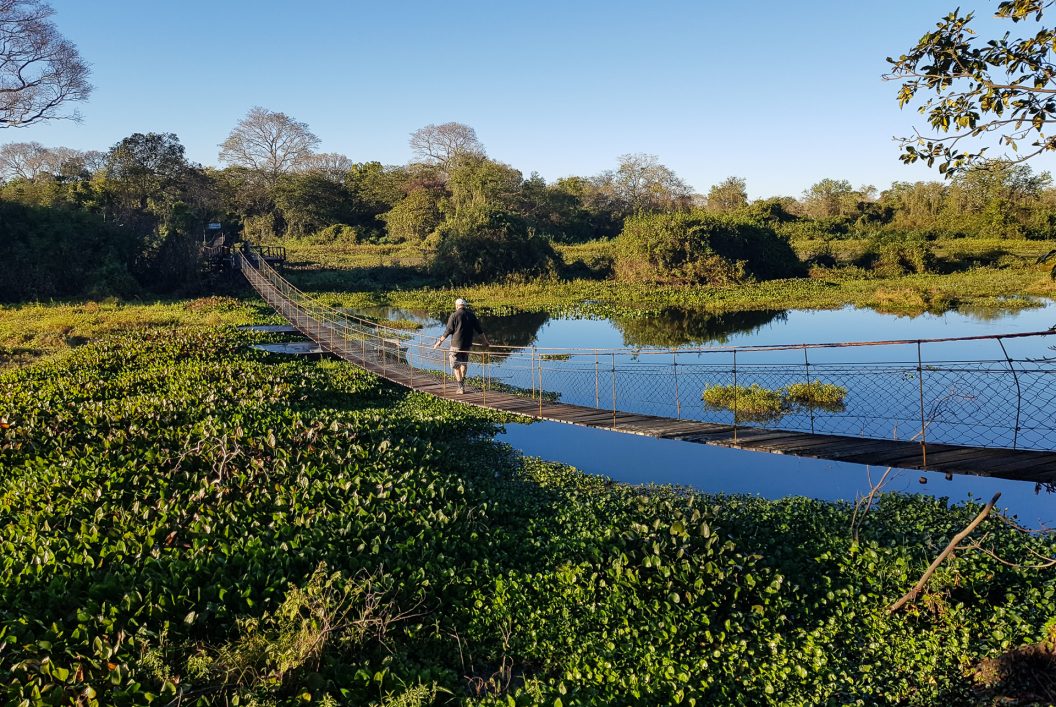 The Estrada Parque branches off at Buraco das Piranhas from the BR 262 and leads fifty kilometers through the southern Pantanal. This side trip was recommended by other travelers. «You have the chance to meet big anteaters». Or «There are many birds to see». These were statements that aroused anticipation.
After Miranda, the BR 262 made a wide bend westward and led us along the river towards Corumbà. From time to time bridges crossed the Rio Miranda. Already here we came across a paradise! Countless herons stood in the water, a Jabiru stork stalked through the water and lazy caimans lay on the shore. Green parrots and dozens of red Cardinal birds were whizzing through the air!
An hour later we turned off to the Estrada Parque. During or after heavy rain, this track is no longer passable, which proved the deep traces in the dried mud! After eight kilometers we reached the Lodge Passo do Lontra, which is located on the Rio Miranda. We were with a few Brazilian fishermen the only guests and could park our vehicle directly at the lagoon.
Early the next morning we went on an extended tour. A footbridge on stilts led in a wide arc through the jungle and along the Rio Miranda. It was a paradise for birdwatchers like us. If an increase was still possible, then it followed on the onward journey. Apart from big anteaters and jaguars, we got to see almost everything there is to see in the southern Pantanal!