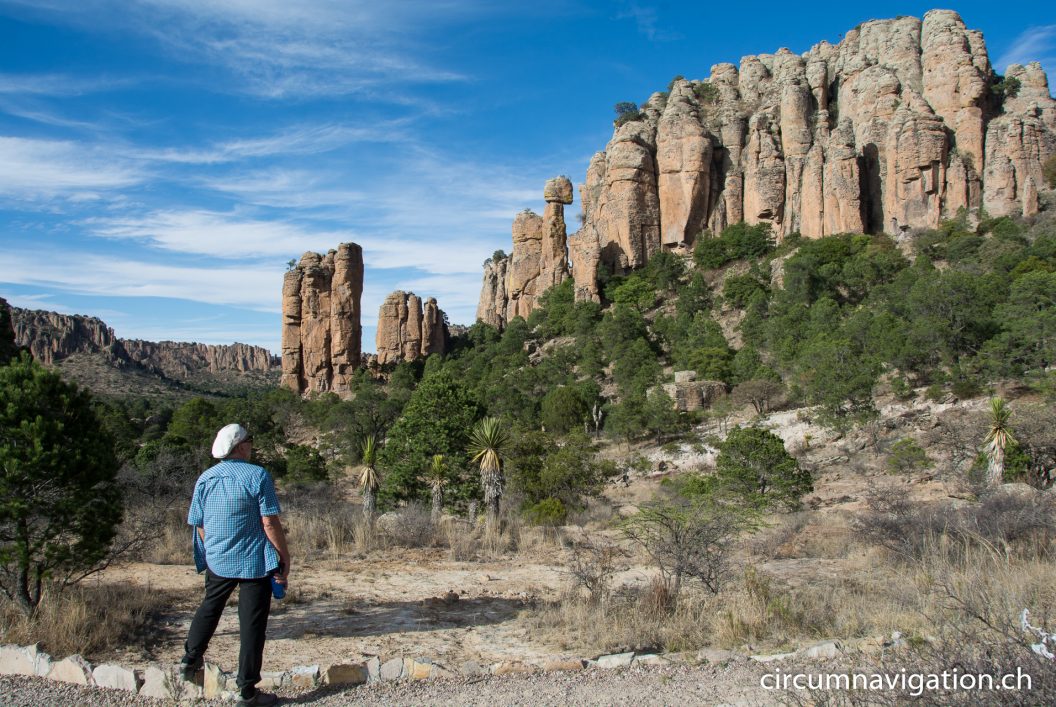 As good as we liked Zacatecas: we were looking forward to the onward journey, because we knew what to expect! Only a good two hundred kilometers away is an incredibly beautiful national park. The name is Los Organos. Organos, in Spanish, means also organ pipes. And that's exactly what the impressive rock pillars look like.
The ride took us through a dry plateau at around 2,000 meters. The red earth looked very fertile. Where water is pumped out of the ground for irrigation, it is green. We passed huge peach plantations and – to our surprise – also vines. We would have loved to know what kind of grapes they grow here. But except for a few tractor drivers plowing huge fields, we did not see anyone we could ask.
Then we reached Sombrerete, another Puebla Magico. These pueblos, mostly small towns, receive this award because they preserve their old structure. Ugly concrete blocks or corrugated iron huts are not visible here. But nice churches, shady places and venerable buildings. Not infrequently one encounters some Vaqueros (Cowboys) on horses on the narrow streets. Or the horse is pulled in a trailer by a 4×4. Horses belong here almost to the basic equipment of a household.
An hour later we reached the National Park Los Organos. Meanwhile, the driveway has been paved and there are now also biological toilets. Otherwise, however, nature – unlike us – does not look chanced after the twelve years that have passed since our first visit. We looked for a nice place to camp, put on our hiking boots and made our way to explore the area. She was beautiful! So nice that we stayed three days. Hiking for three days – we do not even do that in Switzerland!