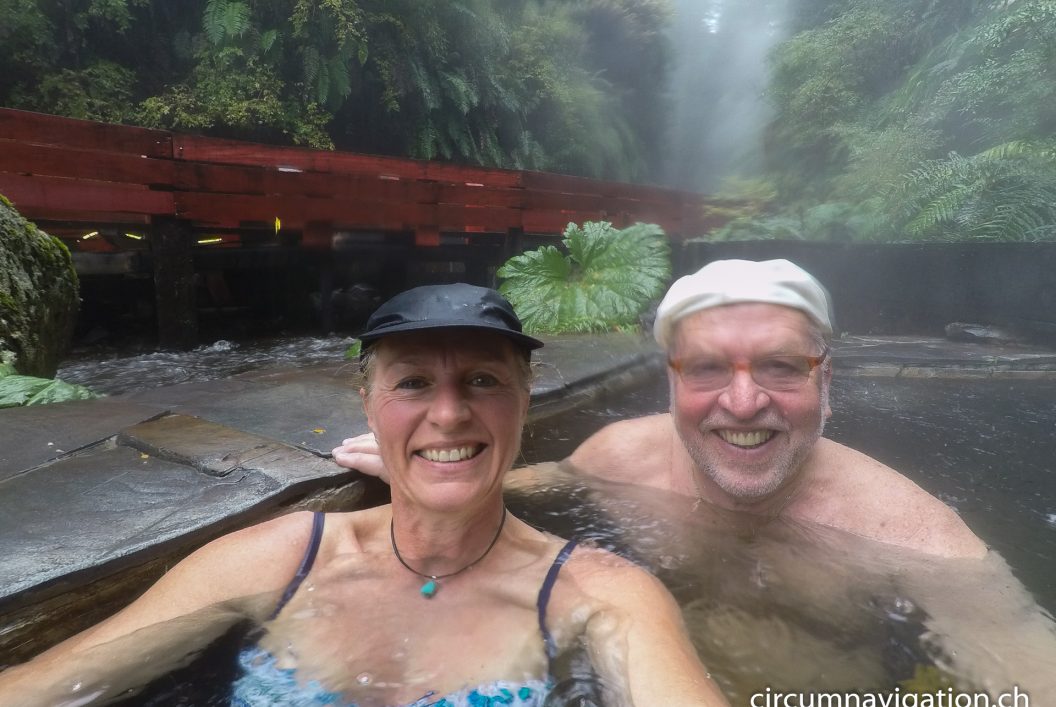 After all that has happened to us in the last few weeks, we urgently needed some relaxation. We know meanwhile; that it can go haywire on a journey; but we have not experienced a rollover before. And we also hope that we will not experience any more. In any case, we have completed a multi-year subscription with our guardian angels – just to be on the safe side!
On the way north and while reading in the Lonely Planet (without a guide we don't go on a trip!) Brigitta saw the description of an extraordinary thermal, which carries the somewhat strange name «Termas Geometricas». A strange name, but the description in the LP and the recommendations of other travelers were so positive that we decided to make a detour to these spas.
It was a cloudy, rainy and very cold day when we parked at 11am on April 26th 2018, in front of the entrance to the spa. Just perfect, to splash a few hours in hot water of 35 ° to 45 °. We were the first and the only ones until two hours later a few Chilean couples arrived. The spa, conceived by the Chilean architect German del Sol, is located in a narrow canyon and in an area that is dominated by volcanoes. (From Villarrica you can see seven volcanoes in good weather – we have just seen one!). One or the other sometimes spits fire, ashes and hot magma. And they heat the underground water to over 70 ° C, before it submerges at the spa and mixed with water from the river to tolerable 35 ° to 45 ° degrees.
If you enter the spa, you get the feeling to be in Japan. As is the case there, the two complementary colors red and green prevail. The narrow gorge is lush green with huge ferns and rhubarb perennials grow from which the water drips. The footbridges meander in red, and the pools – which are over twenty in all – merge through the lush green. And red are the changing rooms too. The whole thing looks like a Japanese «master piece»! We enjoyed it for a good half day. The rainy, cool and gray day made the experience even more beautiful.
Would like to see more? Have a look at our Clip.