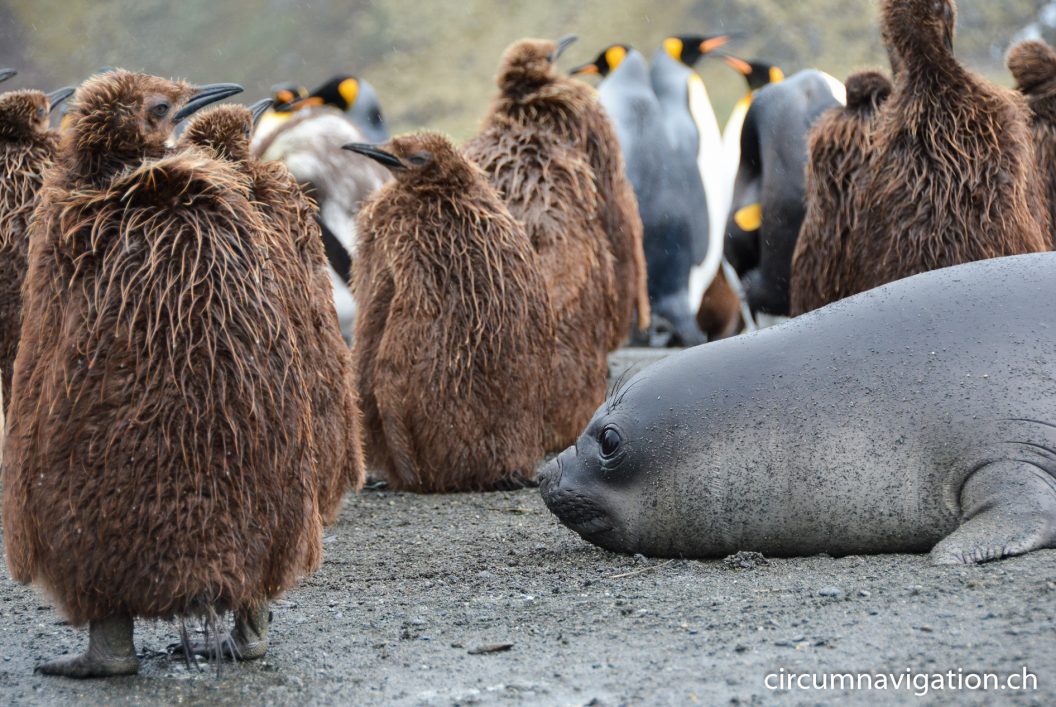 6th December 2018, aboard the Ocean Adventurer, South Atlantic: We are on the high seas and plow at 15 knots towards Falkland Islands. But we do not want to go there – our destination is Ushuaia. But a storm was over the South Atlantic, which will sweep through the Drake Passage in the next few days. This let the captain to change the route. So we sail a longer way to avoid the storm. As we need more time for this detour, we are leaving South Georgia half a day ahead of schedule.
As a consolation for the earlier departure we were served so to speak a dessert. Around 25,000 King Penguins nest in Gold Harbor. Even though we have already seen a lot of it, it is always an experience to be in touch with these elegant floats and less elegant "pedestrians". The brown-feathered and puffed young penguins have grown to our hearts. They stand for hours in the drizzle or in the cold wind and wait patiently for the return of the parents who bring them food. If these do not return from fishing, the life of the young penguins ends before it has really started.
A special experience on this day, however, were the young Elephant Seals, who look into the world with their round eyes. They have been recently weaned and are always looking for a place to dock on. This can be the boot of a visitor. Or the leg of a tripod. Or the bag where our life jackets are stored. We are always told to keep our distance to the animals! But what do you do when the animals seek our proximity? Like here on Gold Harbor!
Would like to see more? Have a look at our Clip to the tour on the Ocean Adventurer.