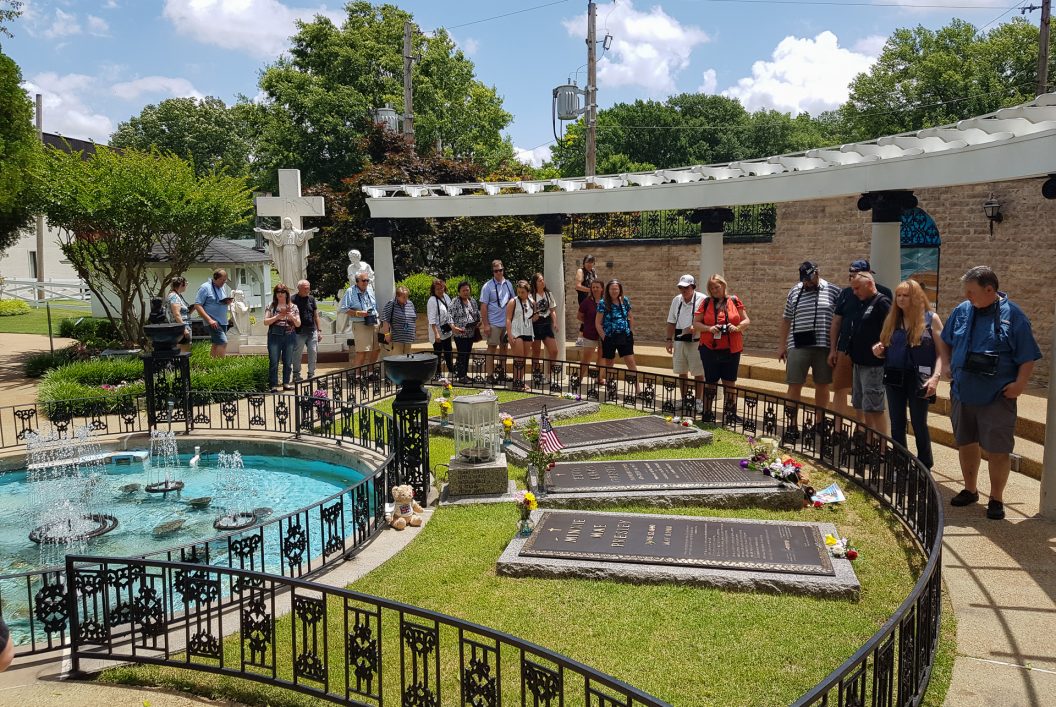 On May 28th, we arrived in the capital of Rock'n Roll: Memphis! Memphis was also the seat of the Sun studio, where Elvis Presley made his first sound recordings at the age 21. One of them, in 1954, was Blue Moon of Kentucky. In 1957, at the age of 22, Elvis bought a house in Memphis on a 500-acre farm: Graceland. And Elvis, who died at the age of 42, is also buried there. But not his music!
I've never been on a pilgrimage in my life! And I do not know how it looks in Lourdes. But since yesterday, when we were in Graceland, I can imagine that! Unbelievable how many people of all ages are still attracted by this charismatic singer. It's been 42 years since he died. But his music lives on as if he too were alive!
On the huge parking lot, we also saw a lot of Harley Davidson and their drivers. They had  the same age as I, but looked twice as old with their huge, white beards! Out of dozens of RVs climbed parents and their kids at hand. Most, however, came with their cars full of teenagers and young adults. Everyone wanted to see where Elvis lived with his parents, wife and daughter. We too!
After paying US$ 120.- for both of us, we were taken by bus to the house. It was smaller than we thought. A room, called Jungle Room, was some of the weirdest we've ever seen. Incredible the kitsch and the many utensils from the 70s. The tour ended at the grave of Elvis and some of his family members. (There was a lot of mourning and it felt as Elvis died just yesterday!)
The next few hours we marveled at the cars and motorcycles that belonged to Elvis: Rolls Royce, Ferrari, Mercedes 600, Cadillacs, etc. His plane and that of Priscilla, his wife, can be visited too. And wherever you were you were soaked with his music! Brigitta said to a black employee, «You sure do not hear Elvis music anymore.» To which he replied: «Yes Mam, I do! And I still like it!»
Elvis lives! At least in Graceland!
PS. I remembered my father (born 1905), who said at the time: «This Elvis Presley is doing "Negro Music"!»