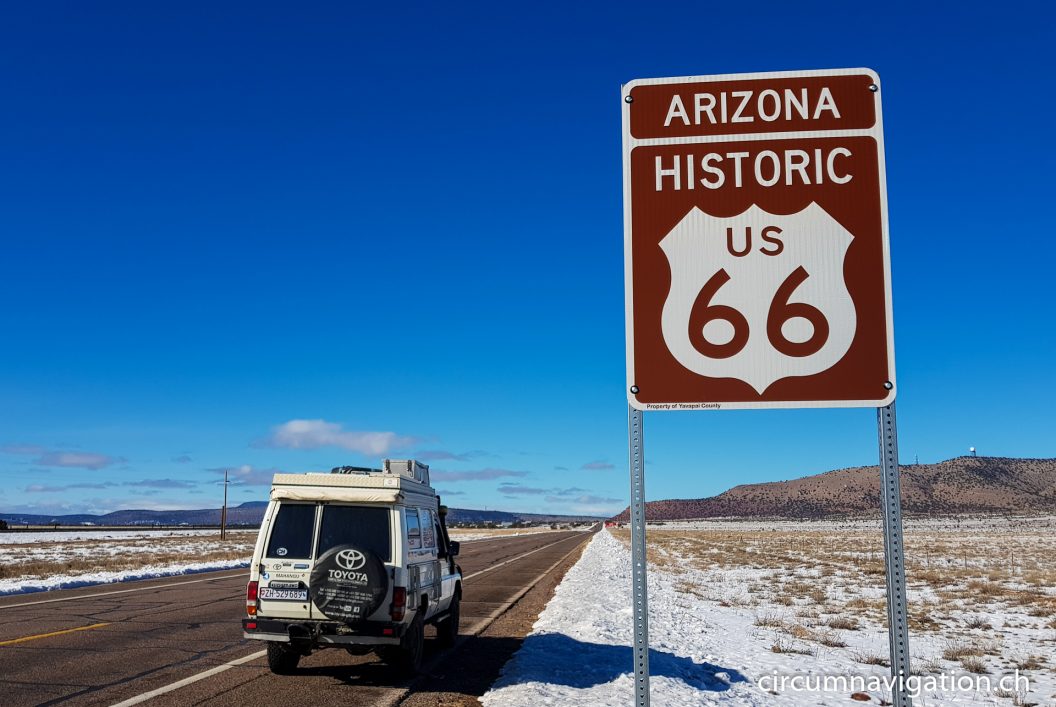 «Route 66 also known as the «Main Street of America"» or the «Mother Road», was one of the original highways in the US Highway System. The road was established on November 11, 1926, with road signs erected the following year. The highway, which became one of the most famous roads in the United States, originally ran from Chicago, Illinois, through Missouri, Kansas, Oklahoma, Texas, New Mexico, and Arizona before ending in Santa Monica in Los Angeles County, California, covering a total of 2,448 miles». (Source: Wikipedia)
 «Attraction for Tourists and Nostalgics!» Of course, we had to take a closer look at this! For the first time we came in touch with this road, as friends of ours travelled Route 66 (or what was left of it). The second time was on this journey when we came across a 66 marker in Flagstaff, Arizona. As Brigitta inquired about tourist attractions in this city at the Tourist Office, she was also made aware of Route 66, which ran through Flagstaff.
This gave the final impetus to drive a stretch of Historic Route 66, the one from Ashfork to Kingman, in Arizona. It's really a ride for nostalgics. We will remember the El Rancho Motel, which seemed to have stopped in its time, and the steak at Old Smoky's, a colorful roadhouse along Route 66. And this music video which was part of this trip.
PS. On October 13, 1984, the last 5.7 miles of Route 66 in Williams, Arizona, were replaced by Interstate 40. (Source: Wikipedia)