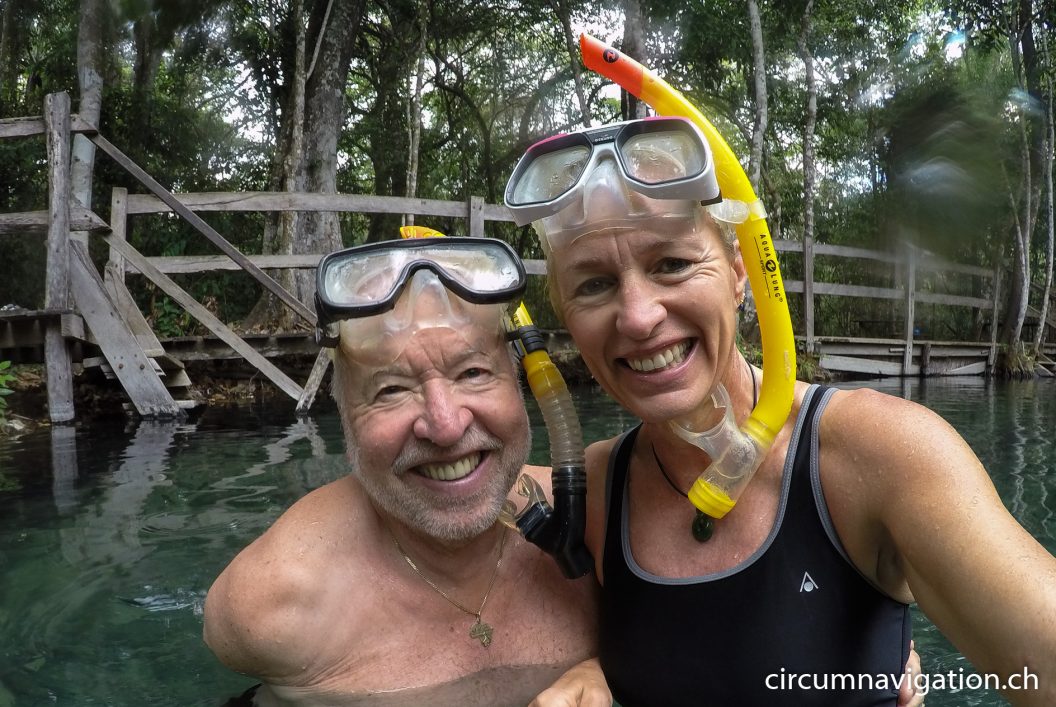 On Monday, 17th September 2018, we reached after 170 kilometers Bom Jardin. That means «Beautiful garden», but it wasn't. This dusty town with 11'500 inhabitants is nothing special. Except for a few shops, where you can buy the essentials, there is nothing to see here. But close by!
We heard from another traveler, about the Refugio Agua Azul, a few miles outside of Bom Jardin. It sounded promising;  so let's go there! As we arrived we were welcomed in German. Milton has German ancestors who emigrated 200 years ago to the south of Brazil. There, where the cities are called Blumenau or Hohenau. There, where you can eat sauerkraut, ribs, pork, pretzel and «Hackepeter». And drink good beer! (We were there 11 years ago, and know what we're talking about!)
Milton showed us the campsite with a hut covered with palm leaves. When he told us that big anteaters were visiting in the evening, it was clear that we would stay here. And we had not even seen the river yet! We saw it the next morning! At 7 o'clock we made our way down. A path took us a quarter of an hour through the jungle. Tucans were heard from the giant trees; and rustled in the undergrowth. An anaconda? Or a tapir? Or a Jaguar!
Then we came to the river Salobra. Wow! He snakes through the jungle – Crystal clear! It felt like the river Verzasca in Switzerland – fifty years ago. Without the German crowds! (I love them if they do not appear in large numbers –  but the same can be said of  the Swiss!) The water was refreshingly pleasant at 27 ° C. Brigitta had packed our swimming goggles and Milton had given us some fish food. After that, the fish – some up to forty centimeters long – snapped joyfully. Sometimes they fetched by accident also a small fish, which turned into fish food as well! Bad luck!
We are curious what to expect this afternoon when we go snorkeling in this river? It is certain that we have found another paradise here!
Would like to see more? Have a look at our Clip.