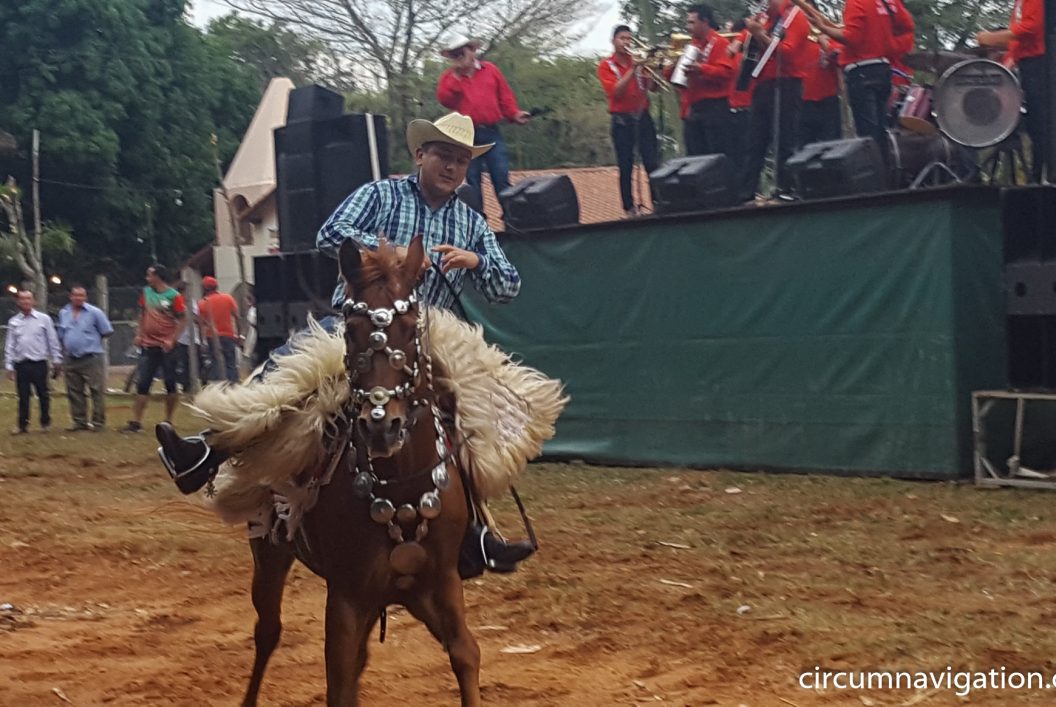 Being in the right place at the right time does not always work out. Sometimes you're in the wrong place at the wrong time; we know what we talk about! But on 29.6.2018 we were once again in the right place: At Hasta la Pasta, a well-known meeting place in the Overlander scene, close to Altos, about 40 kilometers from Asunción. When we got there, we were told that in a few days the fiesta will take place in honor of St. Peter and St. Paul, my namesake.
With four other Overlanders, who also take a break here, we went to the festival on foot. That one took place was not to be missed, because the night before we heard music until four o'clock in the morning! When we saw the huge loud-speakers, we knew why the music was heard even at our place – distance 1'000 meters!
An 8-man orchestra played on an improvised stage. They gave everything! And the loud speakers too. More than a dozen riders – each with a can of beer in hand – stood at bay with their horses. We were waiting for the things to come. The speaker in incomprehensible Spanish talked and talked; everything we understood was "adelante". Then the first rider rushed forward and performed incredible pirouettes on his horse or whatever these figures are called. After his presentation, one after another followed – even a woman was among them. The horses wore silver jewelery, some horsemen spurs, what showed at the horse flanks! (We wondered if this is not about macho posturing anymore than riding) 
At one of the many food stalls we bought ourselves tamales and a few cans of cold beer – so we were in good company with the riders, who were rarely seen without one. At another stall, I bought a beautiful bird made out of wood, which is carved here. It is a Tucan carrying a banana in its beak. Brigitta said after that she actually already had a bird! Who did she mean by that?