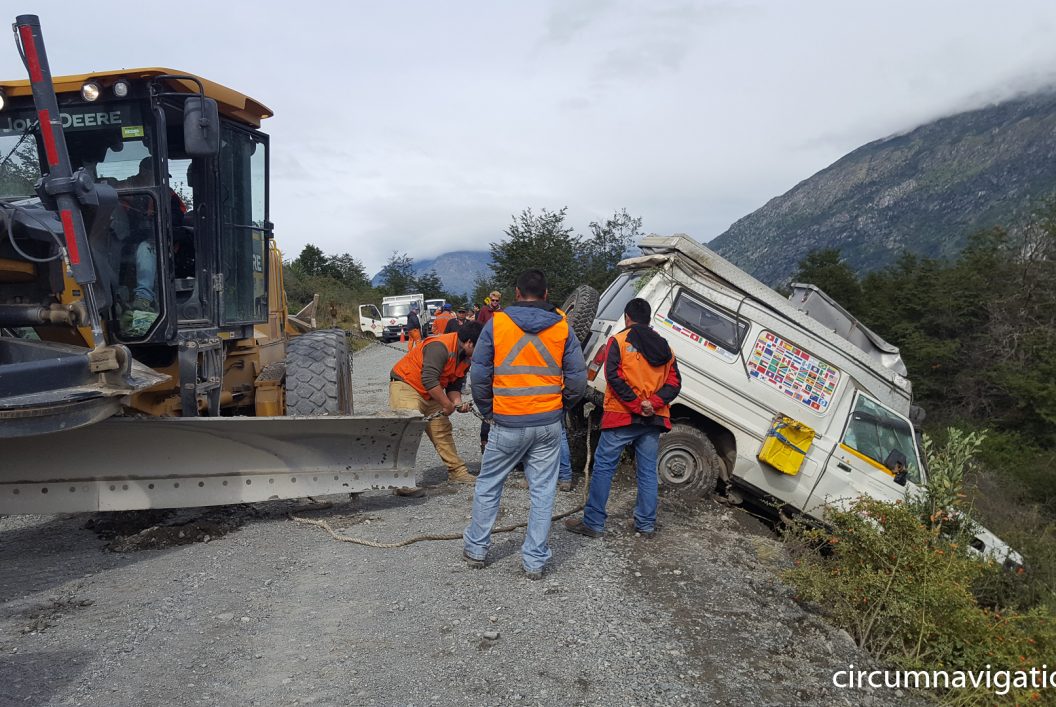 The Hostel Huella Patagonica, in Coyhaique, was our home for a month. Here we found shelter, after we arrived on 15.3.2018 with Mahangu in a «piggyback». Piggybacked because on 8.3.2018, 45 kilometers after Cochrane, I had to make an evasive maneuver. To avoid a head-on collision, I headed to the edge of Carretera Austral. There, the rain-soaked track gave way under the weight of our car – with fatal consequences! We tumbled 1 ½ rolls sideways, ten meters down the slope. The stable roof and a few guardian angels prevented worse! We climbed unhurt through the side window into the open. Mahangu, however, looked pretty damaged.
Two days later we were able to recover our car with the help of a «grader». The heavy machine pulled him up the slope with chains. The next step was to organize a truck to take the heavely damaged vehicle via Cochrane to Coyhaique. There is a Toyota garage and a good panel beater. We needed both.One week after the accident we drove «piggyback» with Mahangu to Coyhaique, which is 330 kilometers further north. It was a ride we will never forget. It was raining like the day of the accident; the surface of the carretera was softened. Each time Cristian, the driver, had to move to the right and his truck tilted, our stomach walls contracted.
After 9 hours of nerve-wracking drive we arrived in Coyhaique. At Toyota, it was discovered in the following days that the chassis has not been damaged. (That would have meant the end of our journey.) After filling 11 liters of engine oil and replacing the air filter, which had been soaked with the leaking oil, I turned the ignition key. The engine started to hum as if nothing had happened! Toyota quality!
Next we drove the battered car to the Taller. He made us an offer and said that repairing the damage was possible. But that would take 15-20 working days! Patience was announced! We liked to bring that up – the most important was that we could continue the journey. On 7.4.2018, one month after the accident, we were able to pick up Mahangu. Unbelievable, what professionals can do with good tools! Our travel vehicle has a few more dents; but better Mahangu has some than us!
On Friday, 13.4.2018, we continue our journey through Chile. In Puerto Chacabuco we board a ferry of that takes us to Puerto Montt in 20 hours. Who would have thought that we would still come to a cruise through the fjords of Chile!
Would you like to experience the whole recovery? Watch this Clip.