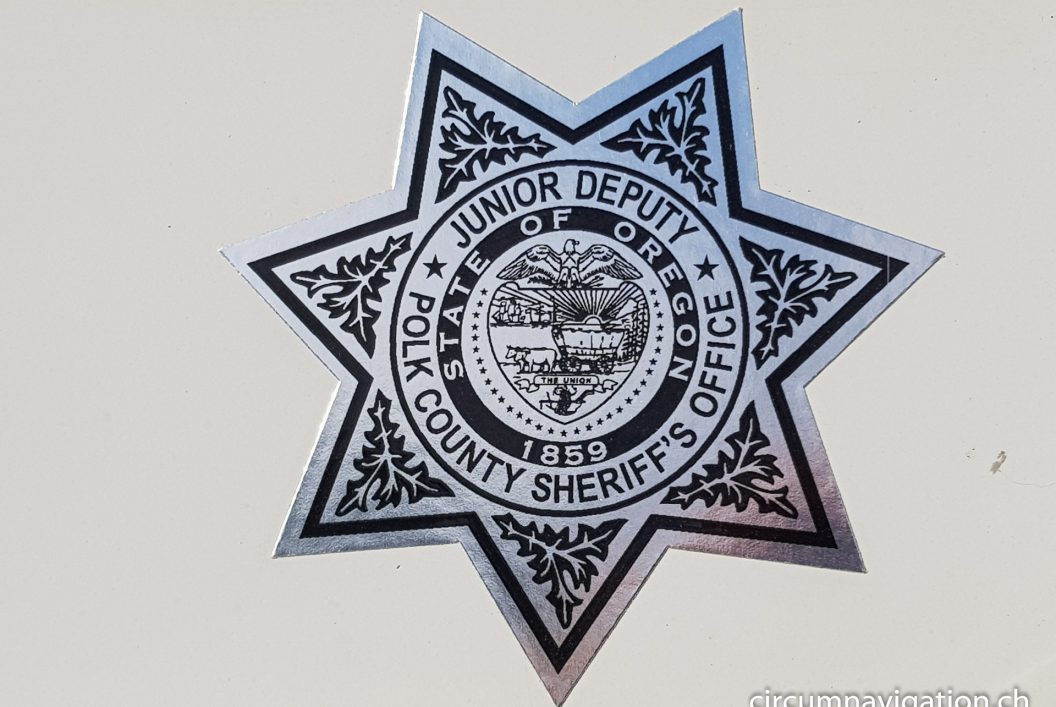 On October 5, 2019, the access to a birding station in central Oregon was already closed. We drove on for a few hundred meters and stationed Mahangu on the edge of the dirt road. Brigitta started cooking and I poured a glass of wine for us. It was a cozy evening. After an espresso and a sip of Whisky, Brigitta went upstairs to read in her sleeping bag.
I unpacked my McBook Pro and started writing posts. It was a dark night and absolutely quiet. That changed at 11 pm when a car approached. It got slower and slower and stopped. I continued writing; until I heard a female voice calling "Hello". Our rear window is tinted and so it's hard to look inside. I did not see much either, because the beam of a powerful flashlight dazzled me. However, I saw enough to recognize the sheriff's star on the vehicle. Oops! Caution was called for, because the hand gun sits here looser than in Switzerland!
I carefully opened the back door, shouted «hello», and lifted my two arms to the night sky. It turned out that a nice sheriff came to see us. She asked where we are from and where we are heading to and wanted to see our ID cards. I grabbed my purse and showed the Sheriff that Brigitta was already in bed. No mercy; she also had to prove herself.
After five minutes, a second sheriff appeared. Her colleague. It then started a nice conversation about travel and the differences between Switzerland and the USA. (Trump was not an issue!) Before the two drove on, the sheriff handed us a sheriff's star. It adorns the broadside of our car since a few days.
PS. Knowing that Trump wasn't elected by nearly fifty percent of the population, we don't touch on this topic!
(Written at the Crater Lake NP, in Oregon)