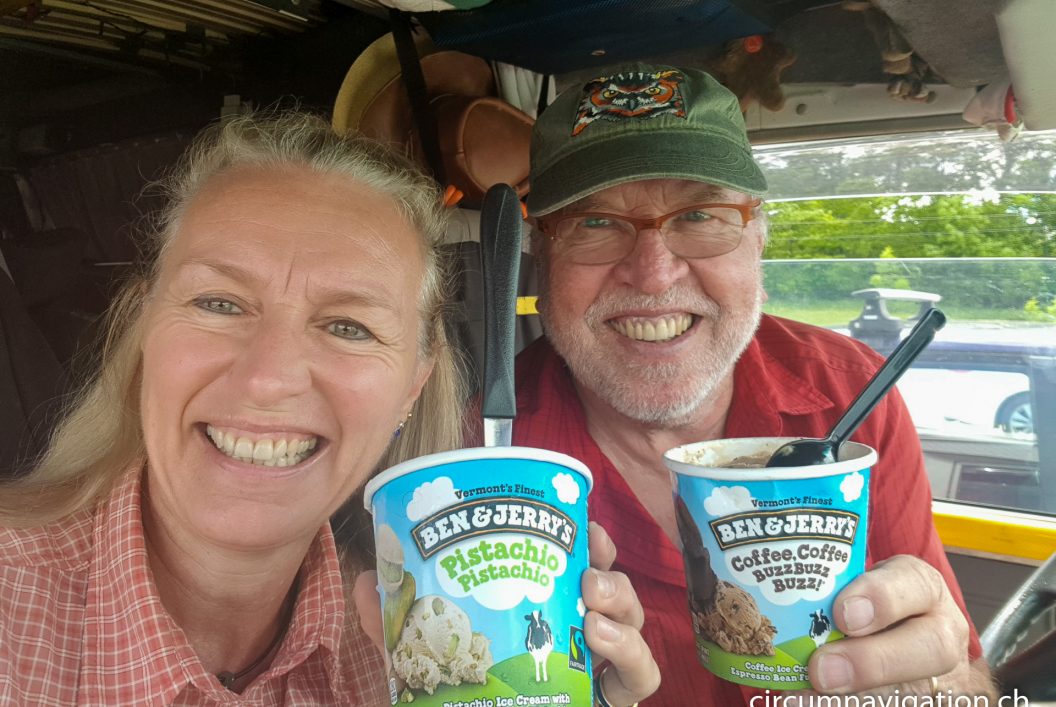 Once upon a time … This is how fairy tales begin. And what happened in Burlington in 1978 is like a fairy tale. Two students, Ben Cohen & Jerry Greenfield, screwed up their exam at the University of Vermont and wondered how to escape from this situation. At first, they thought about producing Donuts. But the investment for the basic equipment costed too much. So, they attended a course for five dollars, where they learned how to make Ice Cream.
They sold it with an old VW Bus in Burlington and surroundings. The Ice Cream that bears their name was born. And it still exist today. However, the two-man company has become one with several thousand employees and  belongs now to the Unilever Group. Ben & Jerry ice cream with names like Half baked, Jerry Garcia or Coffee BuzzBuzzBuzz (my favorite flavor!) is sold around the world. The secret of success is simple: best quality of ingredients and a distinctive appearance.
We planned our tour of Vermont so that we pass at Ben & Jerry. On June 21, 2019  we arrived in Burlington. We booked a guided tour that costs US $ 4.- per person. The tour is in groups of max. 40 people and takes place every ten (!) minutes. The tour of the production ended with a tasting of the variety Fudge with Salted Caramel Swirl. It tasted delicious. Finally, we bought a pint that costed just under six dollars. Do you eat that, you don't need dinner anymore!
More information: Ben & Jerry's