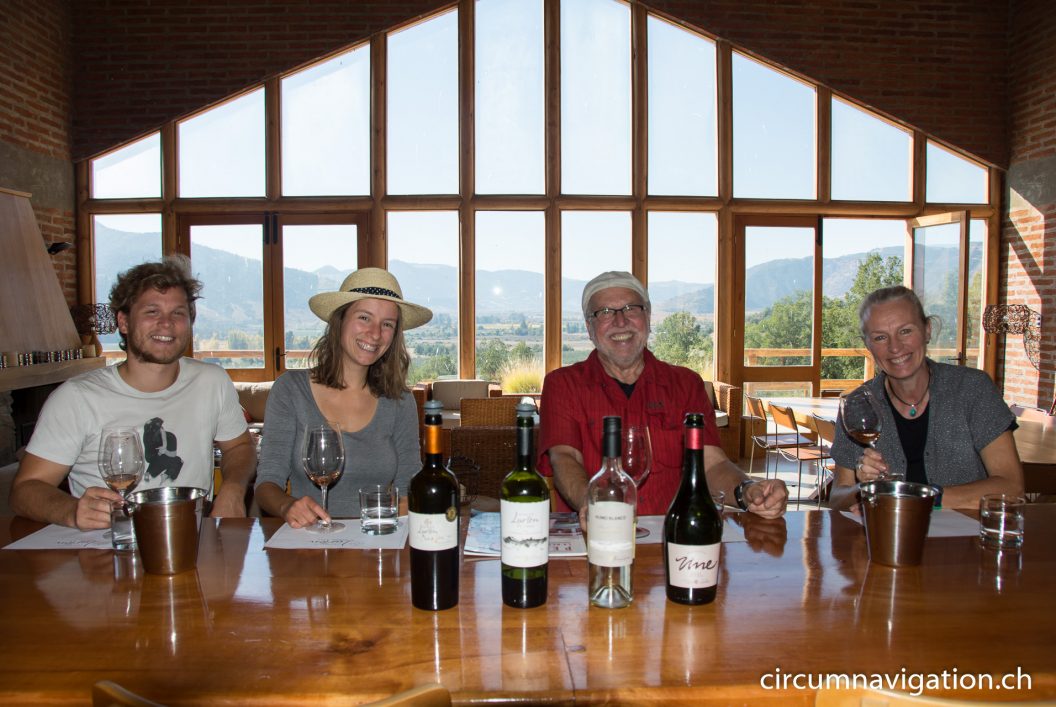 We reached Central Chile, which is famous for its wineries. Who does not know names like Concha y Toro, Errazuriz, Balduzzi, Viu Manent, Undurraga, Santa Rita. The next few days we drove through an area where the grape harvest has just finished or is still in progress. (The Carmenère grapes are harvested last, before the Late Harvest grapes.)
We left the Panamericana and meandered through the hinterland towards Maule Valley and Lolol. This village was largely destroyed by an earthquake in 2010. The damage is still evident. A few miles outside Lolol, a sign indicated the Araucara winery by François Lurton. It specializes in organic wines. Here is «hecho a mano» announced when the grapes are harvested; something that is rather rare in Chile. The visit to Lurton was a stroke of luck as we met Daniel, a Venezuelan who has been here for a few years. He led us first through the vineyard and then into the winery. It was not the first winery we visited; but we have never learned so much about the production of organic wine as here.
Two days later, accompanied by Etta and Stefan from Lucerne, whom we met here for the third time, we visited the wineries in the Colchagua Valley. We drove through a hilly landscape, which was bathed in autumnal colors. Many vines carried leaves that shone in a rich red. (Since the tour the day before, we knew that these are Carmenère vines.) Here we met the winery Viu Manent, where we booked a tour including tasting. It took longer than expected and so we asked if we could stay in the parking lot. «Ningun problema» was the answer. We slept like angels, because where does one sleep better after a tasting than at the winery!
If any increase was possible, it followed the next day as we visited the Montes Winery in the Apalta Valley. One that specializes in the production of wines in the premium segment. And one that has an excellent restaurant. There we enjoyed a lunch in an environment that could not be more beautiful! In vino veritas!