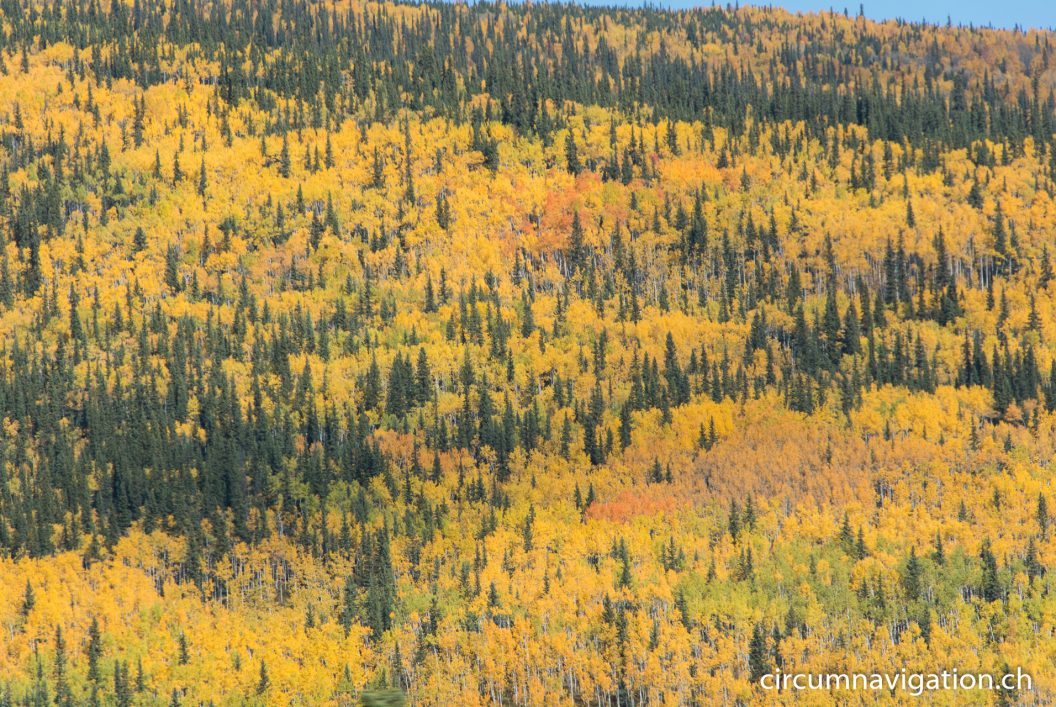 Traveling through northern Canada in the fall has several advantages. For the mosquitoes it is too cool to go after the few tourists who travel these high latitudes at this time of the year. And the blackflies are already in hibernation, so that you can stay outside without bug shirt and store the bug spray away.
However, Canada is not only famous for the mosquito plague but also for the Indian Summer. And we are currently experiencing it from its most beautiful side. Already as we drove northward, the woods colored in all fall colors. But now, since we head south, the immense forests have definitely changed to the colorful autumn dress.
Over the past few days, on the Dempster Highway, we've seen fantastic scenery: Crystal-clear rivers and streams, high and rugged mountains, deep blue lakes, dark red taiga and berry-bushed tundra. But what we see and experience now beats everything we've seen so far. I simply miss the words to describe the color spectacle. A photograph by Brigitta gives the readers of this post an idea how it currently looks like in northern Canada, in the Yukon. Wonderful! Magical! Fantastic!
PS: Leaving the Yukon is difficult for us. Again, and again we stay one more day and camp at a beautiful spot close to a lake or a river. The weather is just too nice to just drive …
 (Posted on 6.9.2019, on Lake Lenora, Yukon)