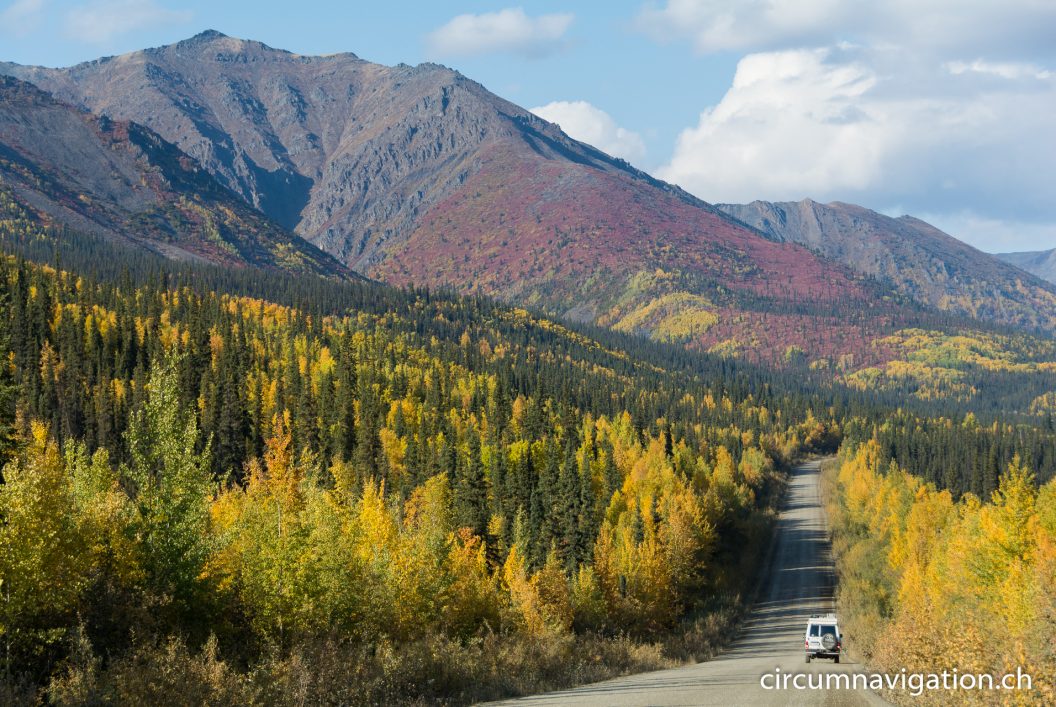 Tuk was our northernmost destination on this trip. After another overnight stay at the No Name Lake, In Inuvik, we made our way back to Dawson City on 2.9.2019. We left Inuvik under a blue sky and after an hour and a half arrived at the ferry that took us across the Mackenzie River. The two crew members knew us from the outward journey. On the other side, the journey continued to the Peel River. The crew knew us here as well and wished us a good onward journey. We also knew the place to stay on the Rock River. However, the squirrel that carried on our first visit mushrooms into the tree as winter supplies, didn't show up. The grey clouds hang deep and it was raining.
It was also rainy the next morning. And it was cool as well! We were happy to sit on our heated seats and see the wipers working. After three hours, we reached Eagle Plains, where we had a coffee break. The truck drivers who drive fuel and other things to Inuvik and Tuk did the same. They know this route inside out. But they prefer to drive it in good condition as well!
The Dempster Highway is an All-Weather Road. But when it rains, driving becomes a real challenge. Mahangu looked like he took a mud bath at the end of this day. We also need a shower after a week in the woods! There will be one tomorrow in Dawson City! And Mahangu also gets a rigid wash.
PS: In Dawson City we learned that a truck has strayed off the road. The Dempster Highway now remains closed until Saturday. We were lucky once more!
 (Written on 5.9.2019, on the Dempster Highway, North West Territories)