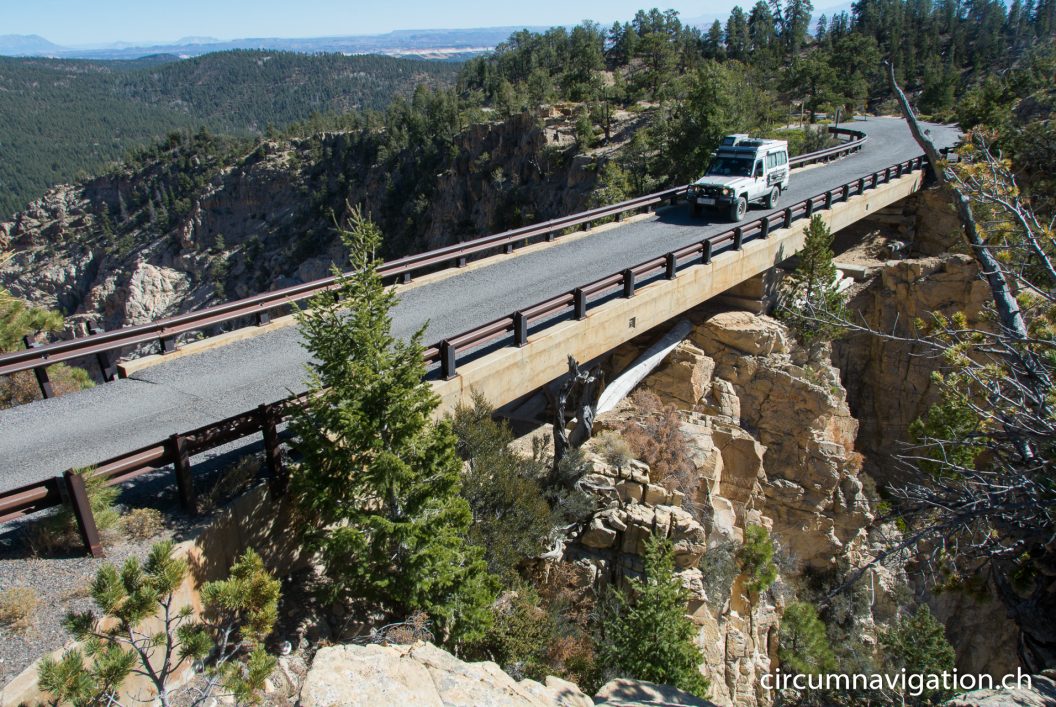 On 10/21 we arrived in Torray on the Scenic Byway 12, which leads via Boulder to Panguitch. At the Tourist Information we received documentation about this route, which is an «All American Road». Whatever name; one thing is certain: it is beautiful to drive.
The first section took us along farms lined with cattle and horses. We felt like in the Wild West. A short time later we reached the Dixie National Forest, one of many large forests in the US. Soon we were surrounded by tall Douglas Fir with their red trunks. Forty miles later we reached Boulder, which, like so many towns, was founded in this area by the Mormons. Here we turned on to the Hell's Backbone Road, which connects Boulder with Escalante.
After an overnight stay just outside of Boulder, we continued the following day the drive. It was just spectacular and took us to almost 3,000 meters altitude. Up there we drove over a deep chasm on a new constructed bridge – the only tarred part. Impressive, what the road builders constructed here. The scenery was overwhelming.
At 4 pm we reached Posey Lake, at 2'670 meters altitude. Did we really want to stay that high up? It would be cold! But the empty campsite was just too idyllic not to spend a night at it. We did not regret it!
PS. With a working heating system, you can sit, eat and read comfortably in the car even at such heights!
(Written outside of Boulder, on Highway 12, Utah)