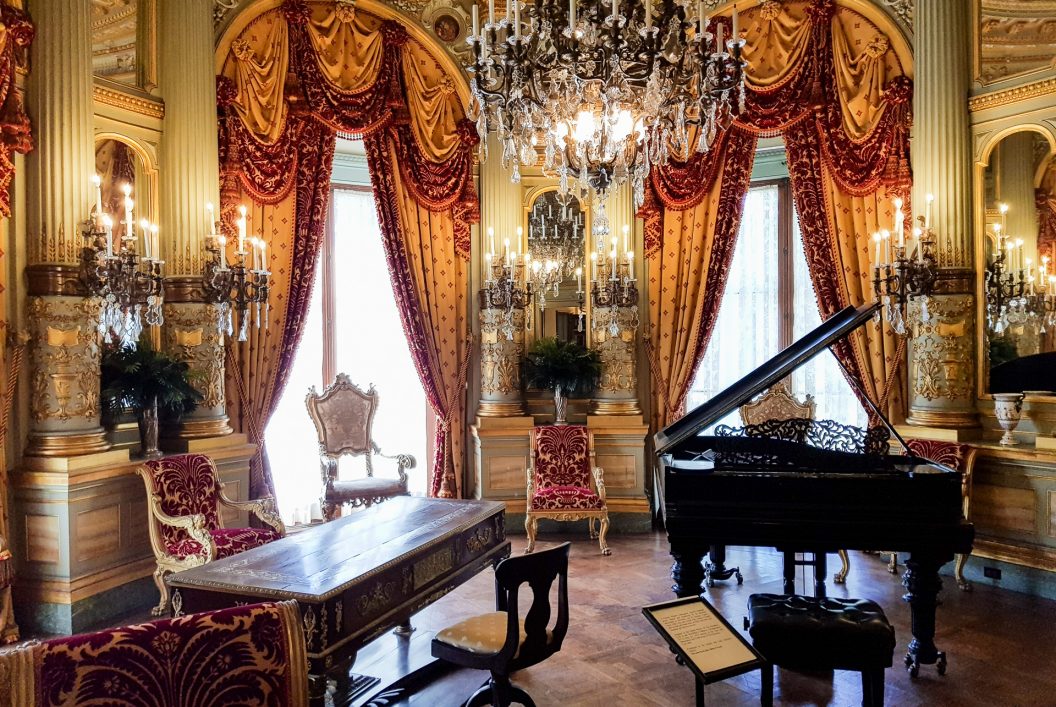 OK, there are rich and very rich people today too. For example, Mark Zuckerberg, who earns a lot of money "stealing" data. Or Jeff Bezos, who stirs up the market with his Amazon group. Or Bill Gates, who has made millions with Microsoft.
But that's nothing against Cornelius Vanderbilt! Born in 1794, he founded a railway and ship empire and became the richest man in the world. The successors were also not lazy, expanded the Vanderbilt empire and engaged in philanthropy. But Cornelius' descendants had another hobby as well!
From 1870 – 1900, in the so-called Gilded Age – the term was coined by Mark Twain – the Vanderbilt's build huge stately buildings. Some on Fifth Avenue in New York. Others like the Biltmore House in Asheville, North Carolina. The most opulent one, however, is in Newport, Rhode Island. Here we visited Bill and Tracey, whom we met 2011 in Sikkim. Tracey said that we must see the so-called Summer Cottage of the Vanderbilt's. (The descendants of the Vanderbilt's seem to be broke; they are charging $ 25.- for entry!)
What we got to see was just unbelievable. The house, called The Breakers, used by the Vanderbilt family especially in the summer, beats everything we ever saw in terms of grandeur and luxury. Forty employees took care of the well-being of the Vanderbilt's and their guests, who came and went here. A few days later, when we boarded our «home on four wheels», we felt small. But free and rich in time!
PS: With 95 years died on June 16th, 2019 the last direct heir, Gloria Vanderbilt, in New York. In addition to four husbands Gloria had several lovers, including Marlon Brando, Frank Sinatra and Gene Kelly. At the age of 80, she wrote an erotic novel that also astonished her son, Anderson Cooper, who works as a CNN news presenter.