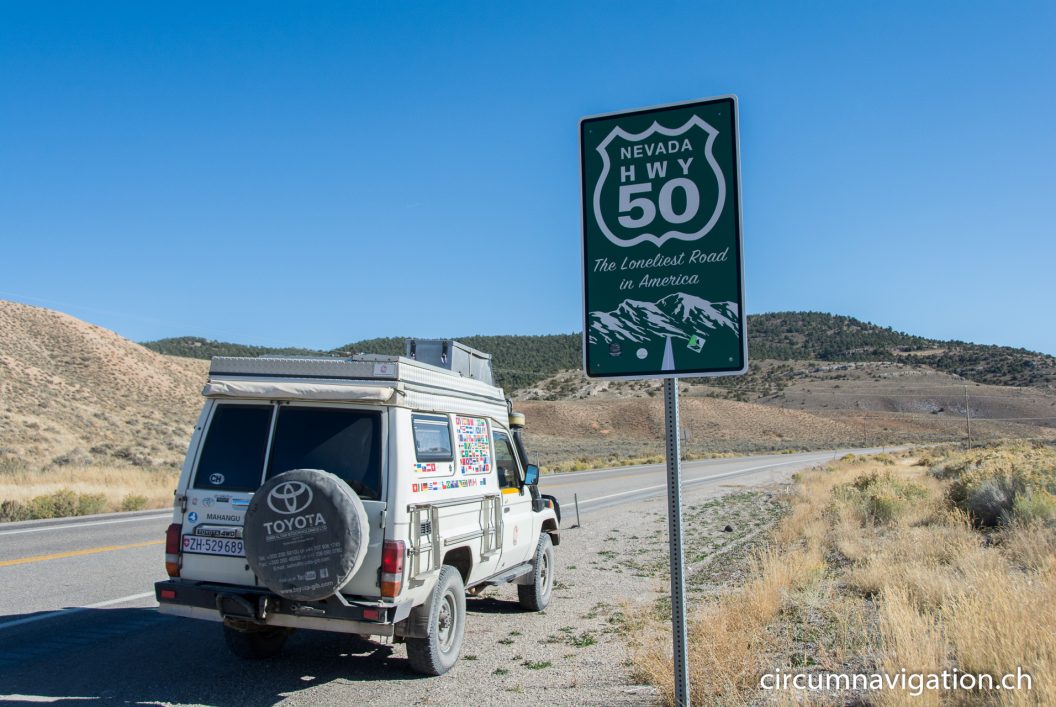 The route on Interstate 80 would have taken us from Oregon directly to Utah and Salt Lake City. But not always the shortest way is the most beautiful. At Battle Mountain we turned south. Once more, we marveled at the vastness and how few people we saw. The night we spent in a rest area, which we shared with two truck drivers.
The next morning beautiful weather. But bitterly cold. This was also shown by the thermometer and the water bag that I left hanging outside – it was frozen rock hard! While Brigitta was preparing breakfast, I did my morning exercise. You have to do something for fitness! Soon there was a smell of hot coffee from inside Mahangu. A taste that attracts me irresistibly. Is there anything better than drinking a hot coffee on a cold morning? Yes, to continue the journey!
Half an hour later we reached Austin, a wild west village with 350 inhabitants. Here we came across the Highway 50, which starts in California, on the Pacific, and ends in Maryland, on the east coast. The Nevada section was named The Loneliest Road Americas by LIFE magazine in 1986 and has cult status like Route 66. Nomen est Omen: In the next few hours, we hardly saw any people, and even fewer vehicles.
PS. Near Austin, Anson Phelpes Stokes, a mine and bank magnate, built a three-story tower in 1896. He was inspired by a tower near Rome! So there are not only whimsical Englishmen!
(Written in Salt Lake City, Utah)