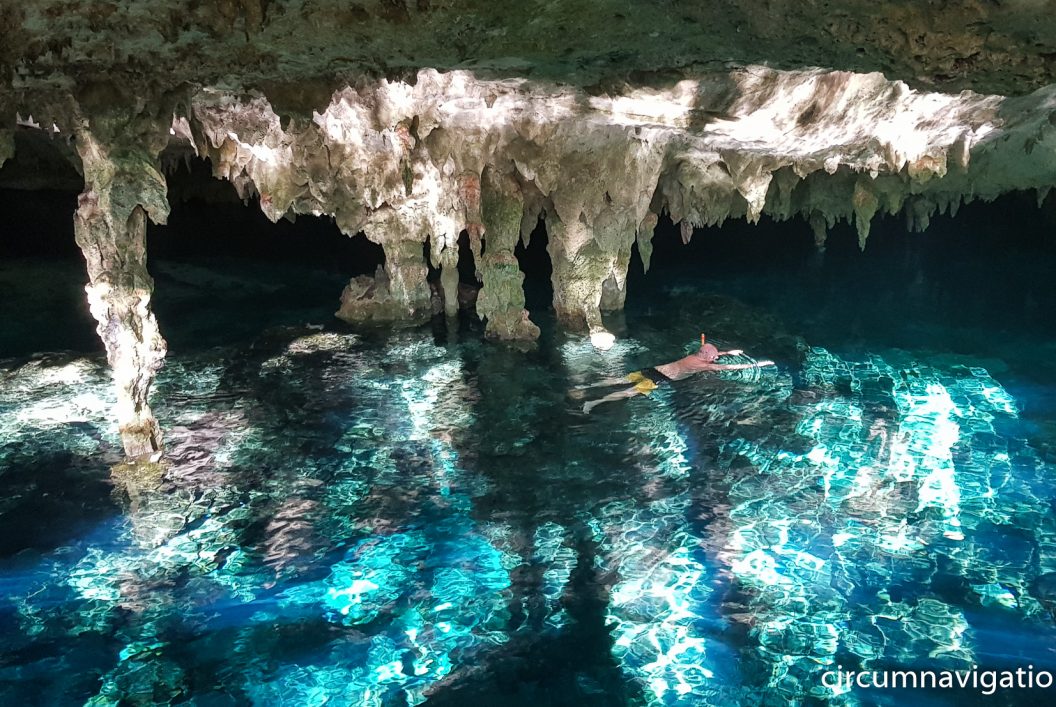 The Mexican state of Quintana Roos, in which Playa del Carmen is located, is known not only for its beaches, but also for its Cenotes. («Cenote» is a limestone hole created by the collapse of a cave roof, filled with fresh water and 15 meters deep on average – sometimes over 100 meters.) There are more than a thousand of them on the Mexican Yucatan Peninsula.
From experience, we knew that not only beaches but also Cenotes were besieged by day trippers at the weekend. So, we set off on a Friday to the Cenote Los dos Ojos, which is located about fifty kilometers from Playa del Carmen. We got up at 6 o'clock, left our apartment at 7 o'clock and arrived at 8 o'clock. The barrier to the driveway was just opened. (Without payment you can hardly get close to a cenote these days, most of them are on private land!)
Brigitta paid the not immodest fee of US $ 22.– per person. Then we drove to the Cenote which is four kilometers away. We were alone! The first rays of sun shone through the treetops into the limestone cave. The water was crystal clear; you could look down all the way to the bottom. Quickly we put on our bathing suits and mounted mask and snorkel. For the next hour we glided through an underwater paradise. From the ceiling hung Stalactites and tree roots; Stalagmites were visible below us. And fish were swimming around us. It was an unforgettable experience.
Would like to see more? Have a look at our Clip.