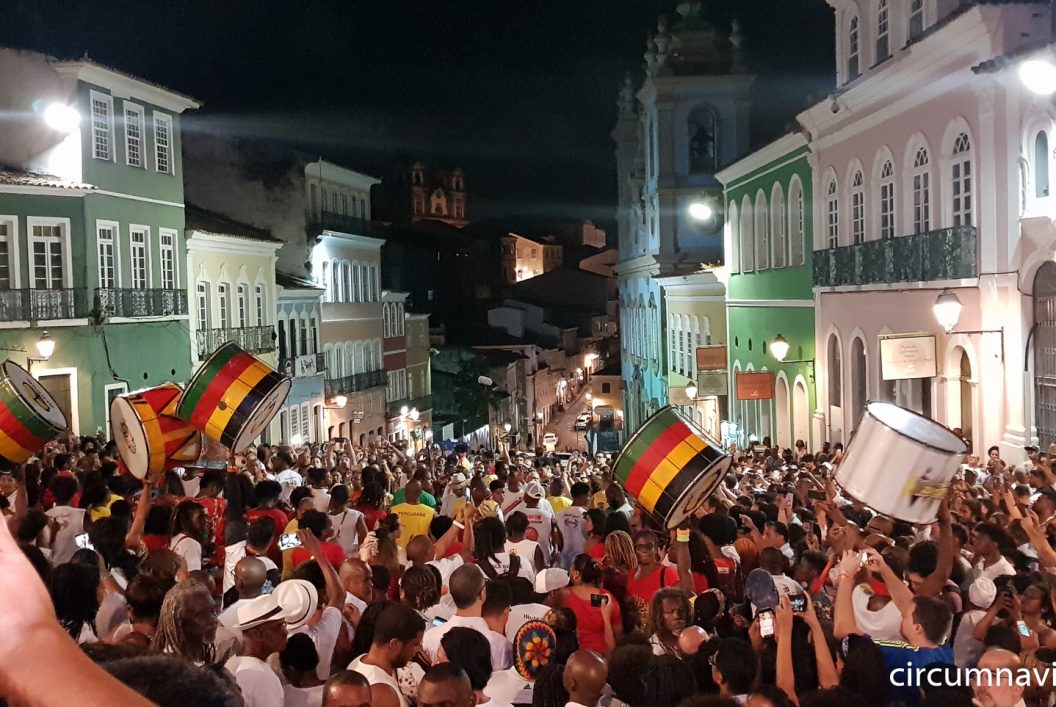 After three days on the beach, on the island of Itaparica, facing Salvador da Bahia, we were looking forward to this city. With almost three million inhabitants, it is the third largest in Brazil. And it is the one with the strongest African impact, which is also noticeable in the music.
When we booked an Airbnb in Salvador for four nights, we knew that we could expect a lot in terms of music. But we didn't know how difficult it would be to reach our accommodation in the middle of the old town. After two attempts, where we almost got stuck in the narrow streets, Brigitta reprogrammed the GPS so that we could approach our accommodation via a detour. There we were expected by Antonella, the Italian owner. She showed us the apartment – a real gem.On the one hand we look into a street of the old town where Mahangu stands. On the other, we look over the bay and the port of Salvador.
The second night we went to the nearby Pelourinho area. As we knew from Antonella, there are live concerts every Tuesday evening. Among other things also from the famous group Olodum. (It can be seen in the video that Michael Jackson produced here for the launch of his hit «They don't care about us. »)
From afar we heard drums as we approached Largo do Pelourinho. The closer we got, the louder the drum sound became. And the human mass denser and denser. They swayed to and fro in the rhythm of the drumbeats. Olodum played! But other groups as well; one consisting only of women. What a rhythm! What a mood! What an evening! The next two hours we followed in swinging movement behind the groups through the old town. The drum rolls got faster and faster – it seemed the drummers were in a trance. What a great moment more on our journey through Brazil!
Would like to see more? Have a look at our Clip.