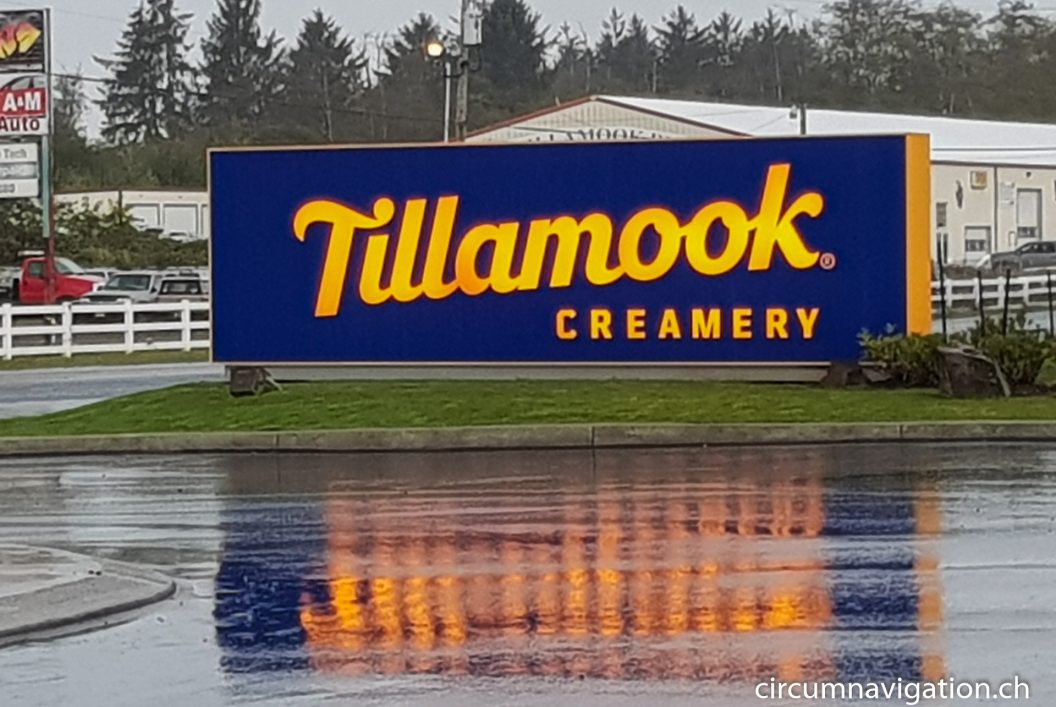 On October 3, 2019, we reached Tillamook on the Pacific coast in northern Oregon. For the first time, I came into contact with this name was on an ice cream packaging. (That's not surprising for the ones who know me!) It was in Salt Lake City, when I came across a large ice cream pack in a food store, which prominently wore the logo Tillamook.  The ice cream tasted great; and I searched in the Web, what's up with Tillamook?
Tillamook is a small town in northern Oregon with just under 5,000 inhabitants. For 100 years there has been a Farmer Cooperative, which produces good products from good milk. The town is located on the Pacific coast and so it was not surprising that we repeatedly came across warning signs that pointed to the escape route in the event of a tsunami. Despite all this, we did not miss the sign to the Tillamook Creamery:  Tillamook
The parking lot was quite full although the school holidays are over. We found a spot for our car, grabbed the camera and made our way to the new visitor center, which is visited annually by 1.3 million people. The next hour we looked at how cheese, yogurt and ice cream are produced.
Ok! You can forget about the cheese if you are Swiss and a lover of Gruyere, Sbrinz, Vacherin Mont d'Or and this cheese:  Arnold Walker AG . But the yoghurt, however, is delicious. And the ice cream is just heavenly!
PS. In the future, we will have to choose between Ben & Jerry and Tillamook. Or – I would like that best – enjoy an ice cream from every brand!
(Written at the Bird Observatory Baskett Butte close to Dallas, Oregon)