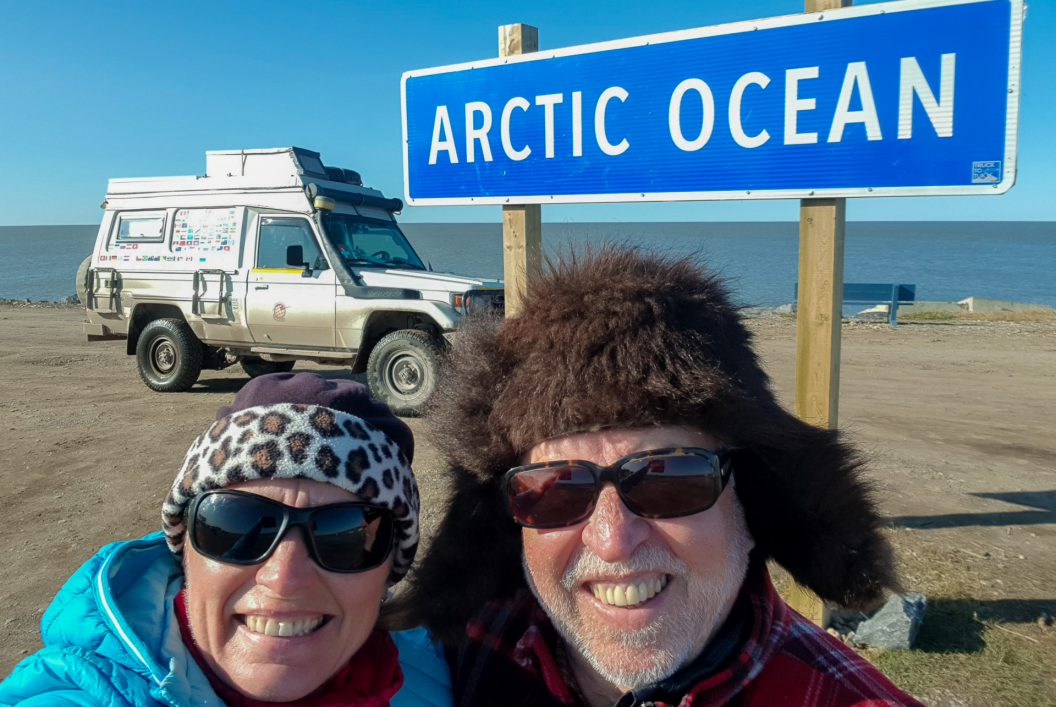 Inuvik we had seen quickly! The igloo church, which bears the same name as the Notre Dame in Paris, was something of a beauty. Strikingly is the new corporate buildings of Schlumberger, a company involved in petroleum exploration. At the Tourist Information we asked about the possibilities for a sightseeing flight with a seaplane. In the absence of such an aircraft we couldn't do it. But deferred is not suspended.
On the morning of September 2nd, 2019, we tackled the last 148 kilometers to the Arctic Ocean. In order to prevent the melting of the permafrost, the highway is continuously built 1.8 meters higher. The dirt road led us through a tundra speckled with lakes. Trees are rarely seen in these high latitudes.
Two and a half hours later, we reached Tuktoyaktuk (Tuk) on the Beaufort Sea, which is part of the Arctic Ocean. It was a very special feeling to arrive up here. Ten days ago, we left Edmonton and have covered since than 2'050 miles. A large part of it on dirt roads. Incredible, where Mahangu has brought us fro and back! We enjoyed this unique moment and made film and photo shoots.
We had planned to spend the night in Tuk, a village of nearly four hundred inhabitants, but what we saw made Inuvik look beautiful. After a round trip through the village full of rubbish and scrap we drove back to Inuvik in the most beautiful light. The evening was still long, because here the sun sets only at 10.30 pm! (We had to re-schedule the watches in the Northwest Territories for an hour.)
PS: Construction of the pipeline to Lake Beaufort is currently on hold. But that will change with rising oil prices and the growing importance of the Northwest Passage. Rumors are already of a deep-sea port in Tuk!