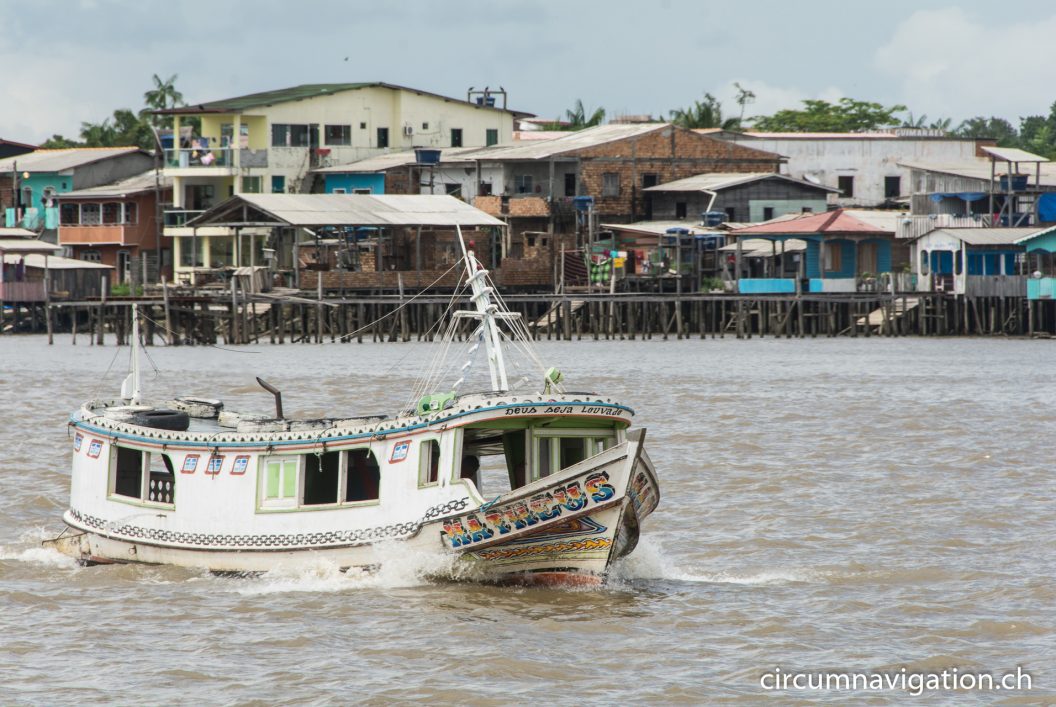 13th December2018, aboard the pontoon: With our trip to the Falkland Islands and South Georgia, we changed not only the country and the language, but also the climate (8 ° C in Ushuaia at 35 ° C in Belem), the means of transportation (Off-road vehicle against cruise ship) but also the comfort level (sleeping bag against cabin with bed and shower) and simple cuisine against **** meals with appropriate wines!
What a change of scene! Only a few days ago we wore thick jackets, gloves and woolen hats. Now we wear shorts and T-shirts. Icebergs floated in the South Atlantic. On the Amazon float water lilies. There were penguins on the shore. Here are shacks on high stilts. In the ocean albatrosses sailed over our ship. Here swallows roam the Amazon and our pontoon!
When we arrived in Belem, we had our hands full. Already the following day we would ship to Macapà. First, we handled Mahangu, who was waiting for us in an estacionamento. I started the engine and found that three lights didn't go off. They shone red! Although I don't understand too much about engines, I know that's not a good sign. The following morning we drove to Toyota. (On the way there, the control lamps were extinguished!) It turned out that a cable was slightly damaged and the contacts were corroded. The damage was repaired expertly and for free! Thank you Toyota Belem!
Next we stocked up our supplies. In Macapà, the offer would be scarcer and more expensive, because most of what is available there, is shipped from Belem. Back in the hotel, we enjoyed one last time the shower to rinse our sweat off. On the way to the pier of SILNAVE we filled both tanks to the brim. When we arrived there, Matheus was already waiting for us. (We had made the reservation with him before our detour to South Georgia.) Three hours later, I was able to board the pontoon with Mahangu. Here it is surrounded by big trucks that have more horsepower and bigger wheels. But our travel vehicle is the star on board. The truck drivers are fascinated by what we have already experienced with this car. We also!