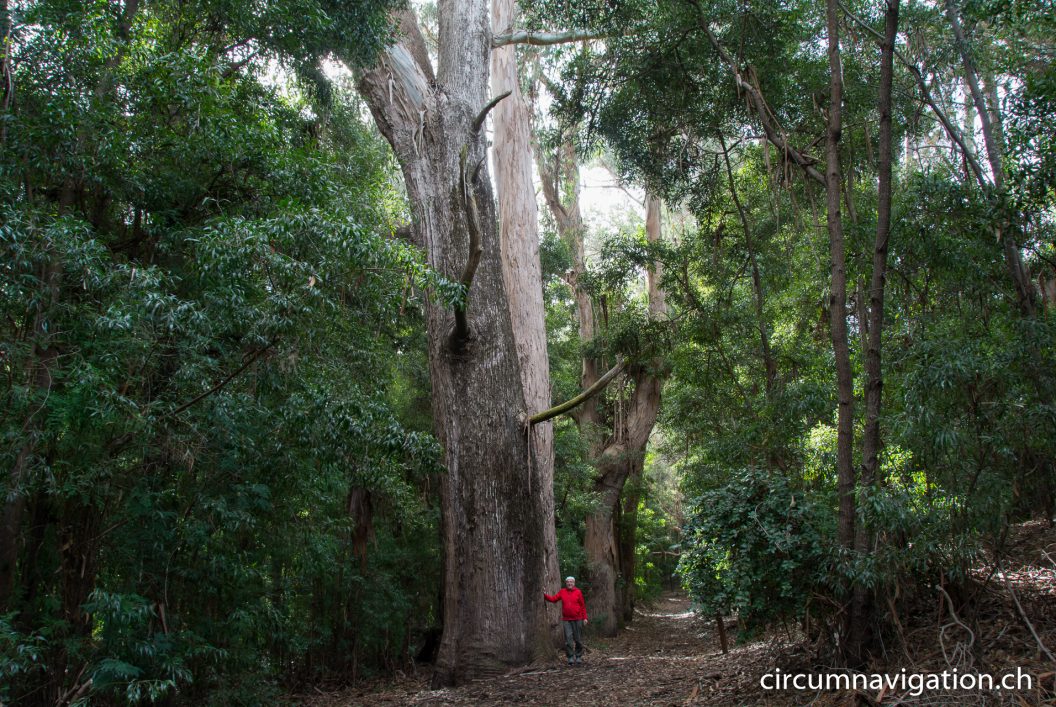 On the way to the coast, we stopped at a COPEC station near Cabrero. Here, as we know from experience, you find not only hot showers and good coffee (no Nescafé!) but also a stable WIFI connection. And we need that in order to update our website.
We could do without the shower, because we had spent the day before in a spa. So we dedicated ourselves to working on our laptops. Times went by very fast and a few hours were gone. We decided to spend the night at the gas station. Something we do only exceptionally, because a quiet good night sleep is normaly out of the question. But ear plugs help a bit to dampen the constant truck.
The next morning, at 8.30 (then it gets light in autumn!)  I went to get two big cups of hot coffee. Then we felt strengthened for the drive to the coast. For hours it went through endless pine forests; Forestry is an important industry in Chile. We crossed dozens of trucks loaded with logs or wood chips. Then again we passed woodworking factories, whose chimneys smoked. And not infrequently we saw the charred remains of forests that have fallen victim to fire – not a pretty sight!
After all the dead wood we felt we need a real forest. We found it in Chanco, a small coastal town. Here, in the Reserva Natural Federico Albert, over hundred years old and therefore huge eucalyptus trees grow into the sky. They have been planted by Federico Albert, a German biologist from Berlin, who emigrated to Chile at the beginning of the 20th century. After spending his first years as the director of a museum in Santiago, he discovered his love for the forest. And he relized how important it is for people to appreciate the value of the forest. (In those days, forests were cut down to create cattle pastures, resulting in soil erosion – some of which Chile is still suffering today!)
We stayed two nights and enjoyed the walks through a fantastic and beautiful forest. We've never seen eucalyptus trees drop 75 (!) cm long leaves! And for a long time we have not slept so good as here!