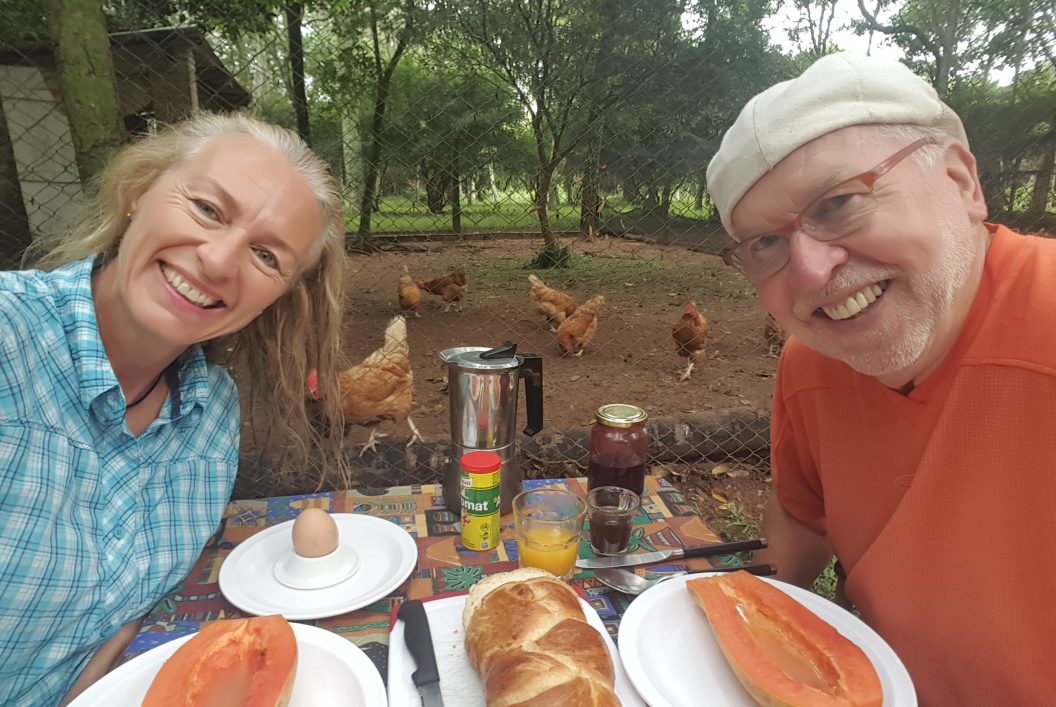 On 17.12.2017 we arrived at the "Hasta la Pasta", in Altos. We planned to stay a few days, but meanwhile it turned into ten already. It's just too beautiful here – a true "overlander paradise". Together with 18 other travelers, all with their own vehicles, we celebrated Christmas at 30° C (and without Christmas carols!). Marion and René, the owners, served us a fruit punch and an excellent goulash accompanied by wine and beer. The next morning, we did an early swim in the pool to do something for fitness – or against our growing bellies.
Our camp is in front of a chicken enclosure where 20 hens lay their eggs daily. Their low chatter wakes us up in the morning and when we step out of the car they wait already at the fence to see what falls off our table for them. And the best: René brings us freshly laid eggs for breakfast – can life be better?
On 28.12.2017 we plan to continue our journey towards Salta, Argentina, which is about 1'200 km away from here. The plan was to take the gravel road through the Chaco, also called "El Impenetrable". However, we were strongly advised against it because of the heavy rainfalls we had a few days ago. So Mahangu will get asphalt under the wheels again…
Would like to know how to produce pasta? Have a look at our Clip.