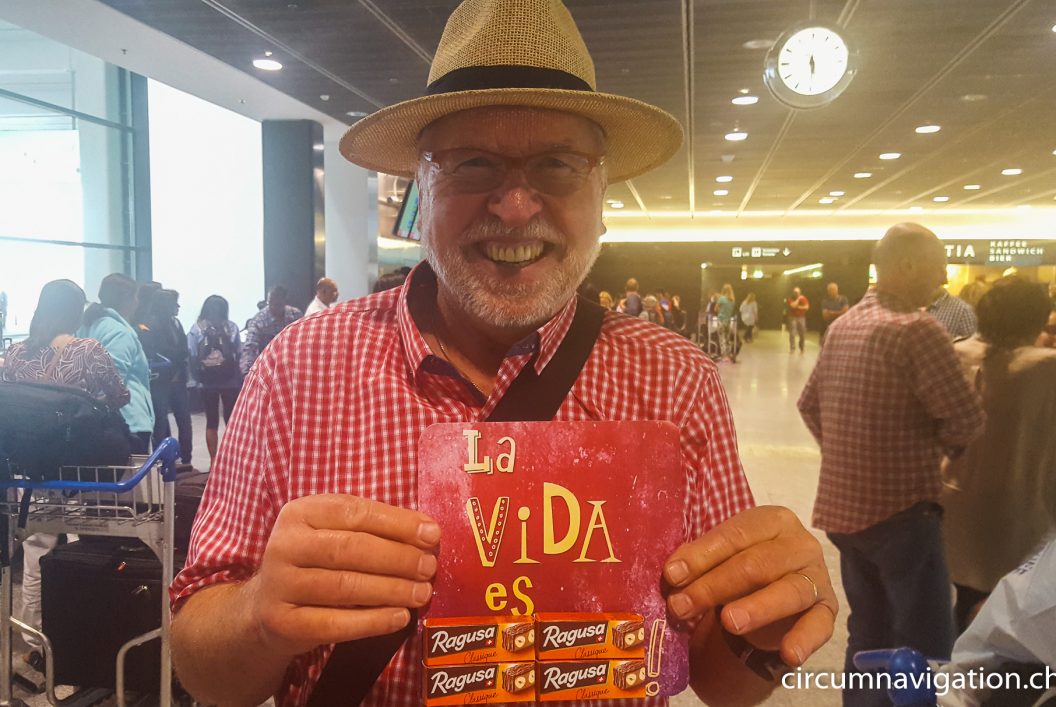 On 19.7.2018, at 4 pm, we arrived at the airport of Asunción. Many passengers were already waiting in front of the Air Europa check-in counter. That looked like a full plane! Why not try an upgrade to Business Class? Behind the counter stood a sympathetic employee of the airline. I tried my best Spanish and asked her if an upgrade is possible and what it would costs. She went busy for quite some time with the calculator, which did not bode well. So it was: an upgrade would have cost US $ 2'000.–; the ticket cost US $ 1'500 .–. That would not be a good deal! (I hate that word since Donald Trump needs it so often!)
So, we took place in the «wood class»; in an Airbus A 300, which had its best times behind. In front of us lay almost 12 hours flight to Madrid. But since it was a night flight, we would spend most of it asleep. At 18.30, the plane took off into the black night sky, made a lap over Asunción and then turned east. We flew direction east and would win six hours to Zurich!
When I awoke it was already light outside; we flew over the Canary Islands. Two hours later, the descent began on Madrid, where we landed at perfect summer weather. There we had to face a three hour stay before we boarded an Embraer 200, which took us in less than two hours to Zurich. Once again, during the approach, we marveled how green Switzerland presents itself from the bird's eye view. In between, a lake blinked, then again forests and fields.
And then the descent began and we landed. It took a while until the doors of the aircraft opened and we were taken by bus to the arrival hall. We grabbed our luggage and pushed the two trolleys to the exit. There we were greeted by Claudia and Dany – two travelers who were with us on the Grande Amburgo when we shipped from Hamburg to Montevideo. That lasted 34 days; and now we had been on the road for just 24 hours! What a welcome! It was sweetened by four Ragusa stems – see picture! (Who does not know what Ragusa is, has missed something in his life!) And as a coronation there was a delicious «Fondue» mixture. This is what makes a visit to Switzerland fun!