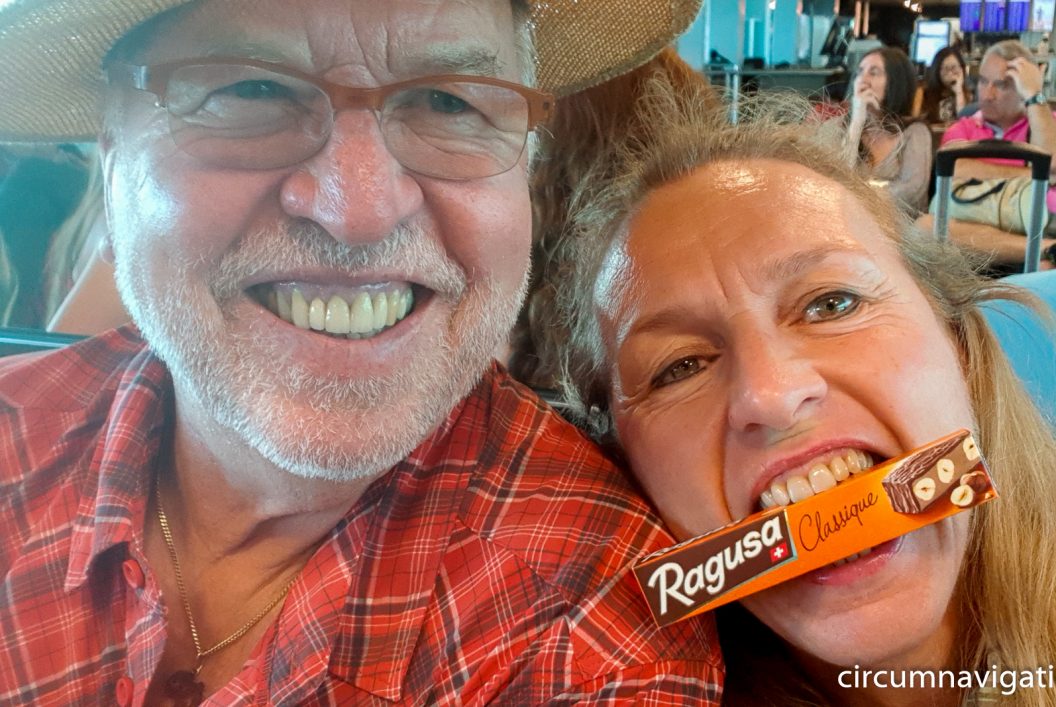 On Sunday, 12th August 2018, we drove with almost 90 kilograms of luggage to the airport of Zurich. Why so much luggage will some be asking? Well, that has something to do with the fact that not only traveled 600 g (!) Ragusa, two kilos of Ovomaltine, four kilos of chocolate, three kilos of Valais mountain cheese, three cans of Stalden cream, one big bag of Willisauer-Ringli and nutsticks, one tube Thomy mayo and mustard, 1.5 kilos South Tyrolean ham, 1 kilo Schüttelbrot, one bag of condiments and 1 box of dates from Dubai, one bottle of Säntis Malt Whisky, 1 wooden box Vega Fina cigars with us but also some hardware. For example: 1 Caquelon with 6 forks, 1 Mac Book Pro, 1 solar cell, 1 camping-window including the frame, 1 windowpane, 1 gasket for the windshield. In addition there were a few other useful things like underwear and toothbrush …
We flew with Air Europa and they concede to their passengers on long-haul flights to South America four bags of 23 kilos each. Thanks to Brigitta's packing skills, we were able to limit our luggage to four packages. With difficulty we stowed everything in the luggage compartment of our small car. The rear springs looked strained! I fervently hoped that we would not break the axle or the spring on our way to the airport!
Three hours before departure we were at the gate. The sympathetic lady at the check-in counter generously overlooked the fact that some of the luggage was over the 23 kilogram limit! I was glad that I – despite personal extra weight of five (!) kilograms compared to the outward journey – got a seat assigned and did not have to travel as «bulky goods»!
With some delay, the plane took off and set course for Madrid, which we reached two hours later. We were hungry, but all restaurants of the airport were already closed. But had we not seen a McDonalds booth? Brigitta organized a hamburger with 6 dl (!) ice-cold Coke for each of us! What a horror after the delicious food and wines we enjoyed at home!